We have a family cottage on Chub Lake in Northern Ontario, Canada. Nathan, Chloe and I took a trip to visit my grandma for a few days. Below are my favorite moments from the trip.
Our cottage started out as a one room fishing cottage and over the years the main cabin expanded to a kitchen, bathroom and two little bedrooms separated by curtains. About 13 years ago the guest cabin (which is Texas-themed) was built. Here you can see how thick the natural forest is surrounding our land. To the left you can see the guest cottage and it's porch and to the right is the main cabin. Typically the Canadian flag is flown, but in honor of her guests, Grandma decided it would be appropriate to fly the Texas flag. Below that is a flag that has Michigan State on one side and the University of Michigan on the other. Our Michigan family is divided – half went to Michigan State and half to U of M.
This is the living room in the main cottage. All across the top wall (only 9 are shown here) are masks that my grandparents collected over the years from their many travels. Grandma has been to over 100 different countries and this is just a small portion of her treasures. The comic strip to the right is probably my favorite decoration up here. My mom bought it many years on one of her trips abroad. A knight finds a naked woman tied up in a cave. He unties her, she thinks she's being saved, he has his 'way with her' and then ties her back up and leaves. Hilarious.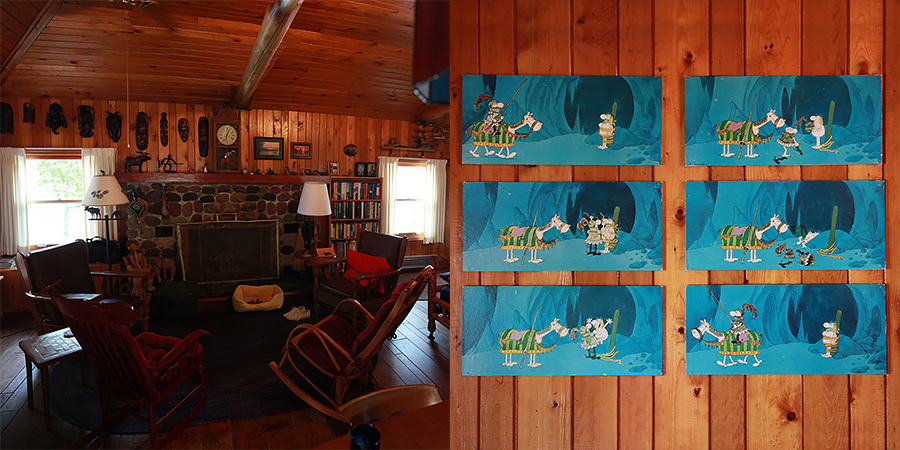 This is the guest cottage. Inside it there is a queen size bed, a small sitting area, closet and bathroom. In the bathroom is a special toilet called the Incinolet 5000. It's great because it uses no water and basically burns your waste every day. At the end of the week you can dump out your ashes. They chose this type of toilet because the cottage was built on rocks and this made the most sense for plumbing.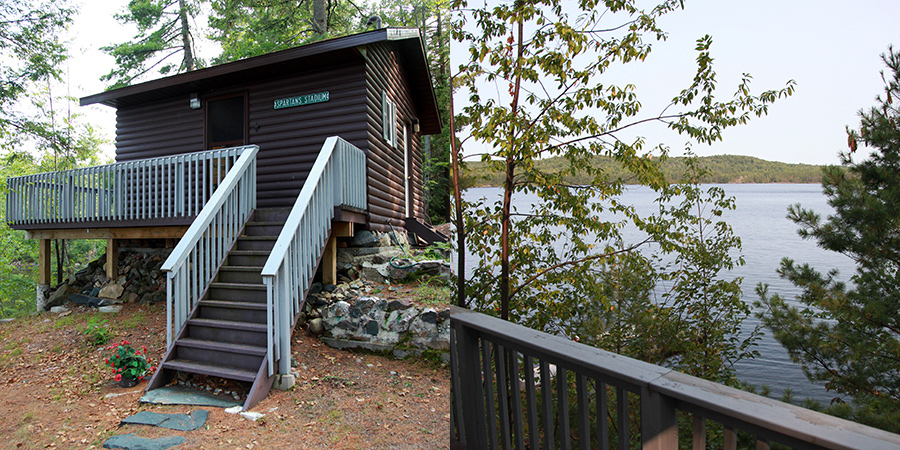 We have always loved The Peanuts Gang and when my mom was little, she painted the gang on the original woodshed. Every few years she would repaint them and then when I started going up there as a little girl, I would help touch up the images. When the old woodshed was torn down and this new one was built, my grandma mentioned to the builders how much she'd miss seeing these paintings. The builders surprised her by cutting them out and attaching them to the new wood shed. As silly as they may be, these paintings means so much to us.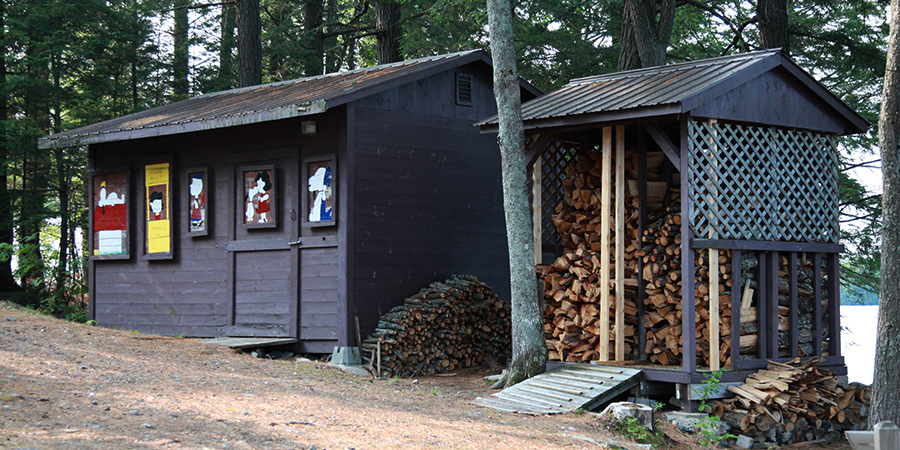 Chloe loves being at the cottage but she can be sneaky and fast, so when she is outside, she's always on a string attached to a tree. I love her but can't trust her.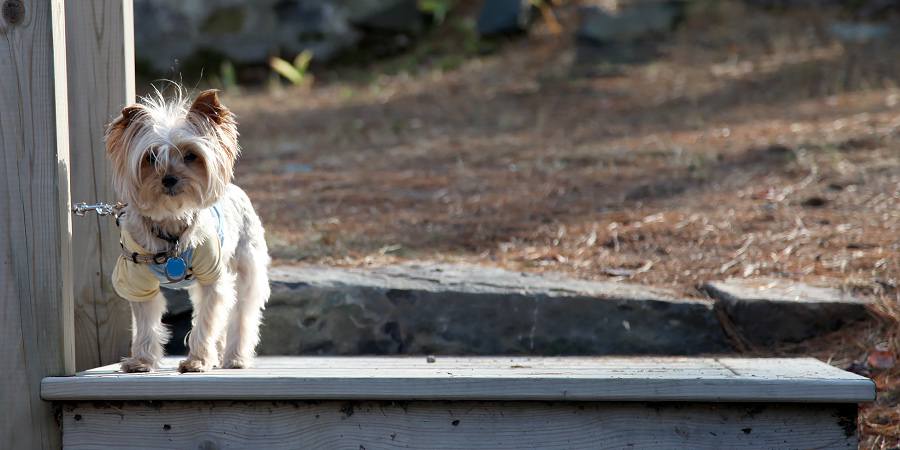 Several years ago my cousin Chris balanced these rocks and amazingly enough, they have lasted through the extreme temperature changes that Canada experiences.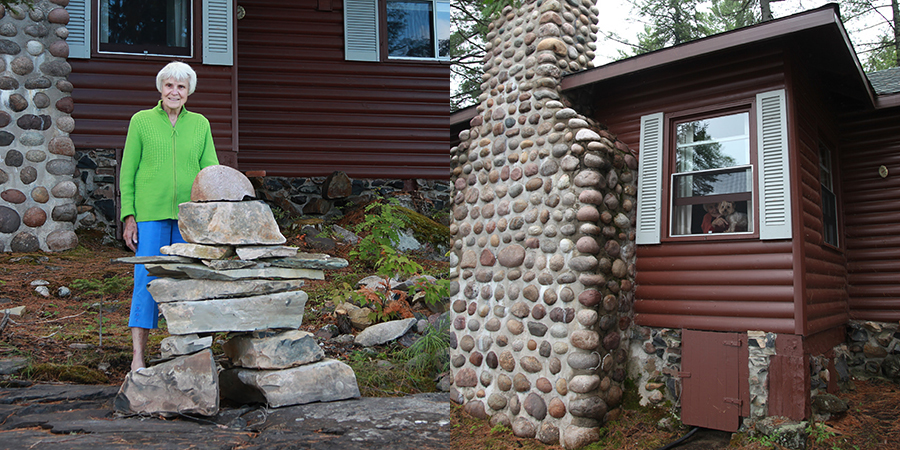 Our first night Nathan cooked steaks on the grill. He claims to not be much of a chef but these turned out great. I'm mostly meat-free but if I'm eating with others, it's easier to go with the flow. I must say, it was fun to have a week filled with steak, bacon and sausage!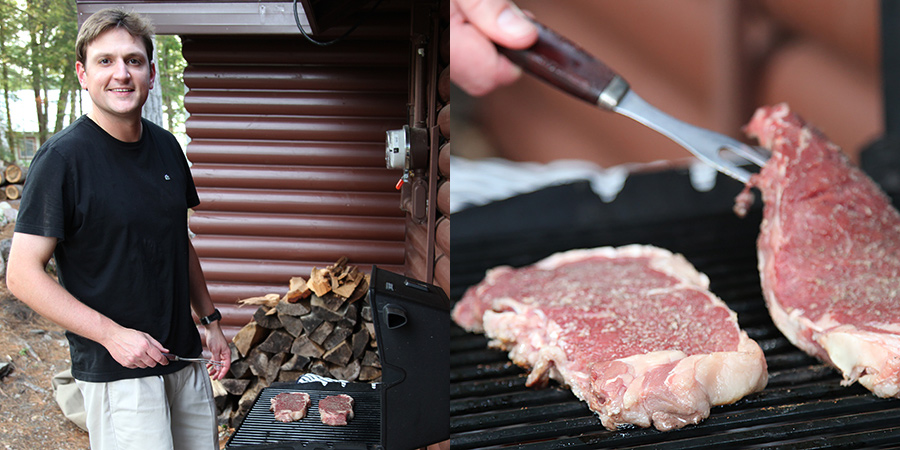 Chloe is used to sleeping all day while I'm at work. When she's at the cabin, she goes hiking, kayaking and fishing… so each evening she passed out. It was really quite cute. Her eyes would just get so heavy and she couldn't stay awake to save her life. Plus, how cute are her little jammies?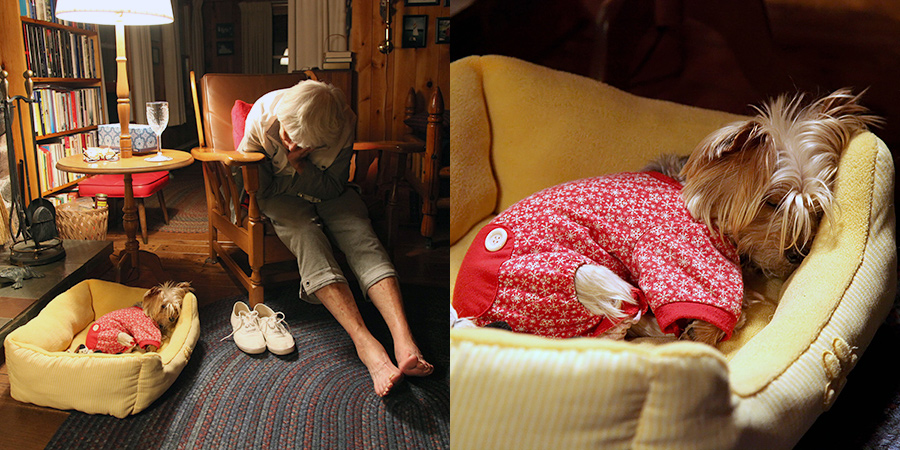 On our second day, it was a little rainy but we managed to make our way to Tom and Rita's. Tom opens and closes the cabin for Grandma and does any and all of the maintenance needed when she is back in the States. Rita is his lovely wife and has the most amazing garden I've ever seen. They are so awesome and let us come pick vegetables. I've never met anyone as resourceful as them. They even make their own maple syrup and wine.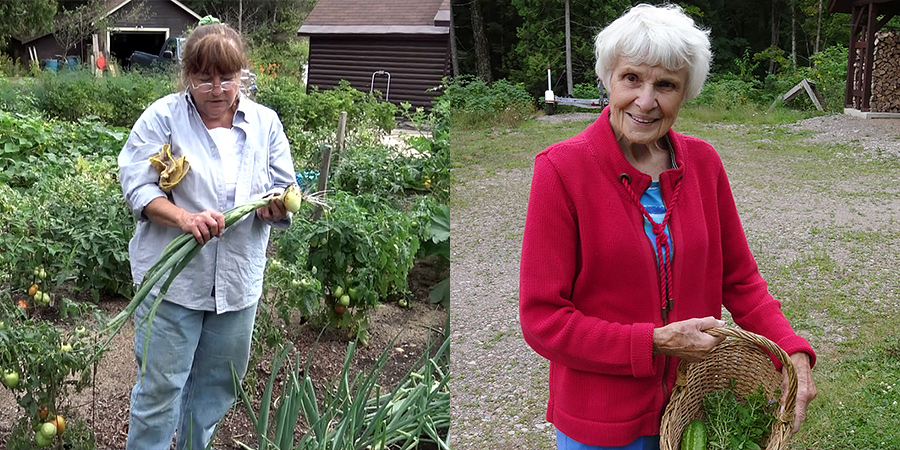 We have 4 kayaks – two ocean kayaks and two kiwis (which are wider and shorter). Kayaking is one of my all-time favorite things to do, so we try to do as much as we can up here.
Chub Lake apparently has quite a lot of fishing potential (Smallmouth Bass, Lake Trout, Walleye and Northern Pike), we didn't have much luck this year.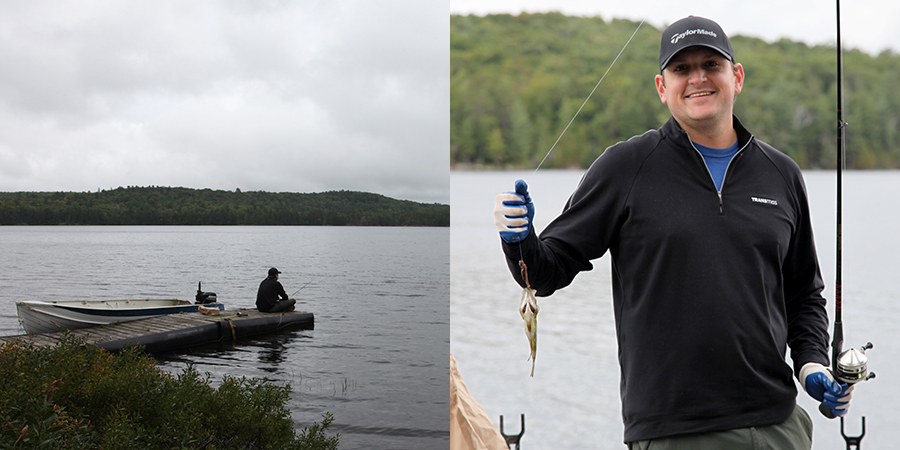 Across from our bay is a beautiful cottage owned by some of our cousins. Luckily, while we were up there we got to see T and two of his three sons Ryan and Zach. It has been years since I've seen them and probably 20 years since we've been in Canada at the same time. We had an awesome little family reunion!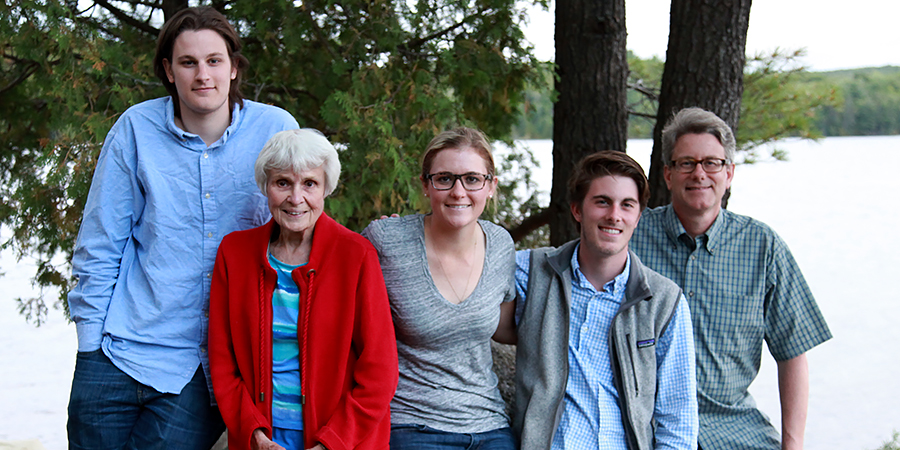 After some unsuccessful fishing on our dock, Nathan decided to try fishing more in the middle of the lake in a kayak. I love this picture, he's so determined here.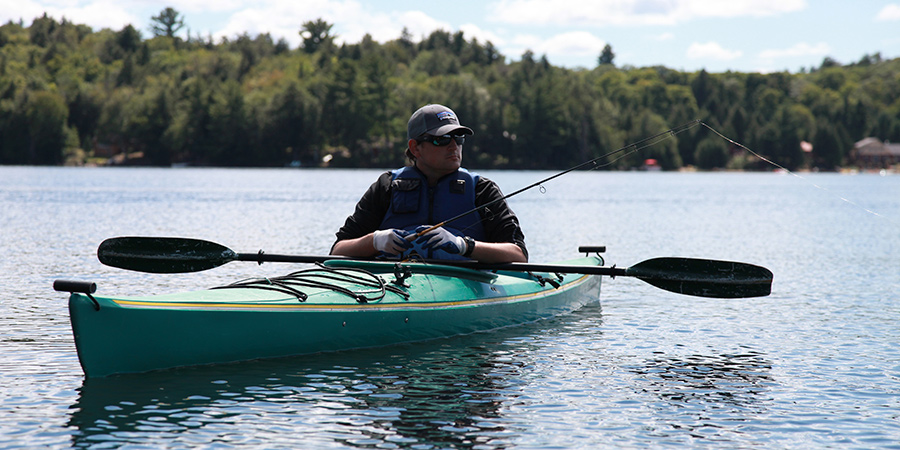 Chloe is my little co-captain and loves being on the edge of the kayak. She always wears a little life jacket and so she doesn't swim in the wrong direction, I attach a string to her jacket so when she falls in, I can reel her back to me.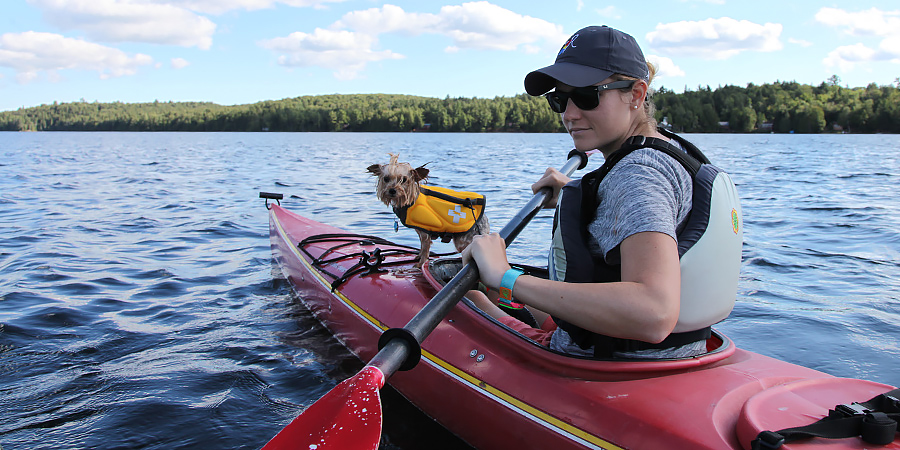 Our third day was absolutely gorgeous so we hiked up to Rock Candy Mountain. It's located on Cummings Lake.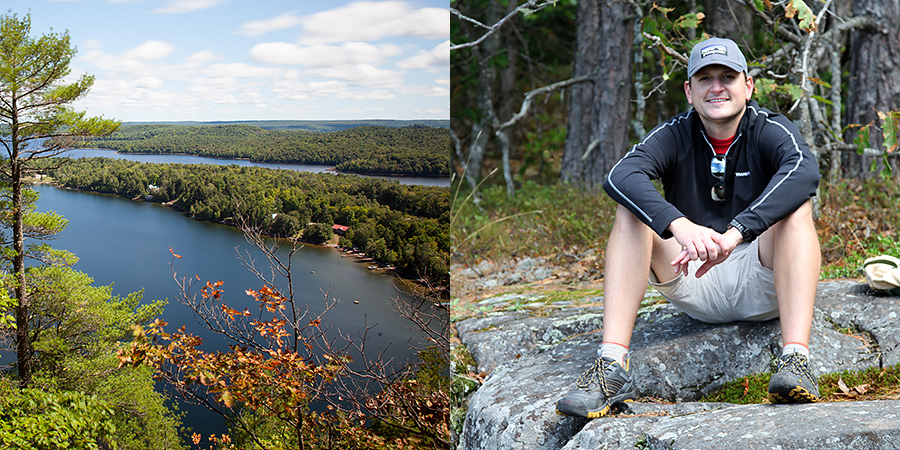 Here's our view from the top of Rock Candy Mountain.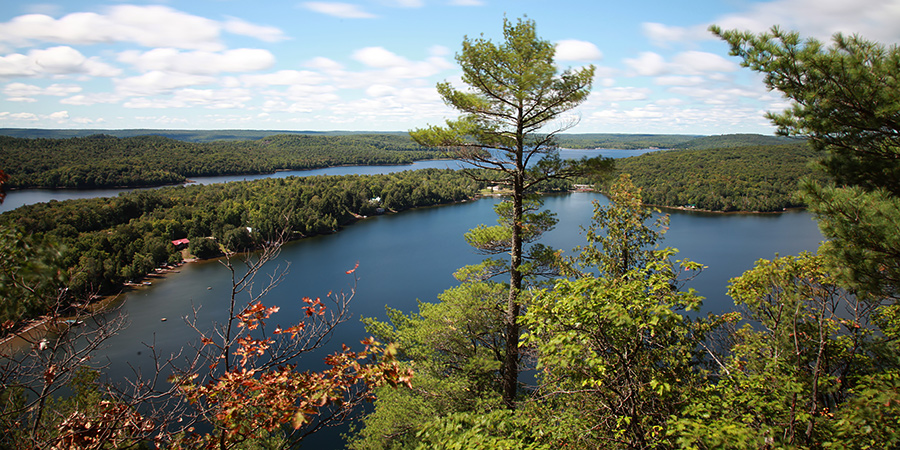 More kayaking. When we kayaked with the Woods boys we went down to Little Chub. If you go to the other end of Chub Lake you can go through a small tunnel to Jobamageeshig – Jobam for short.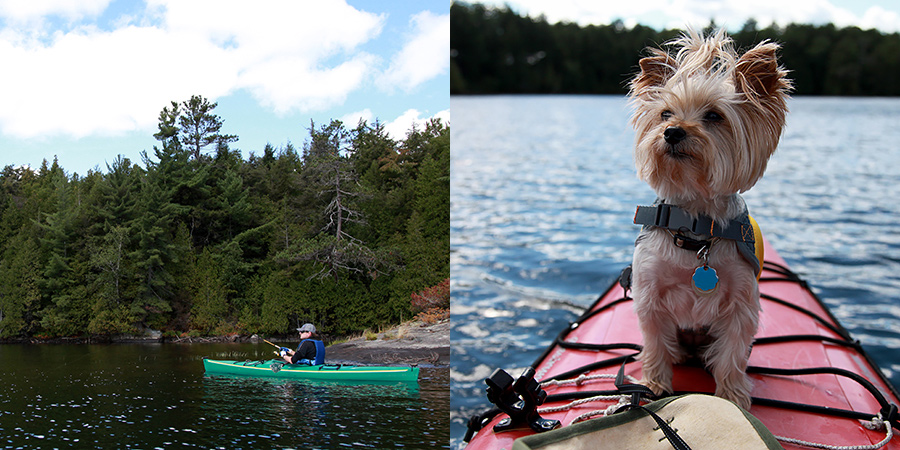 We don't have cable up there so really rely on old cassette tapes and the Canadian NPR station. Aside from nights listening to Burl Ives and You're A Good Man, Charlie Brown, we always loved listening to Roy Clarks' Greatest Hits. It's hard to choose a favorite Roy Clark song, because they are all so good, but my vote goes to "I Never Picked Cotton".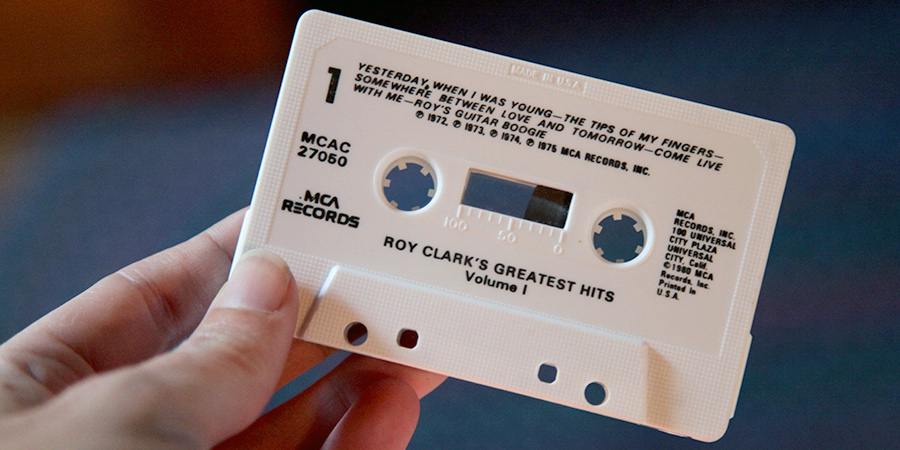 In 1960, Barbie's Queen of the Prom board game came out and my mom had to have it. Somehow it ended up at the cabin and it's been a staple ever since. We always play it once while we are up there and while Nathan may have been hesitant at first, I think he really enjoyed it. It's a race to see who can get Prom Queen first, but before you can go to the Prom, you have to get a boyfriend, buy a dress and become the president of a school club. Nathan actually ended up winning and becoming the Prom Queen. He was the President of the Athletic Club, bought the $40 "Let's Dance" dress and took Tom as his date!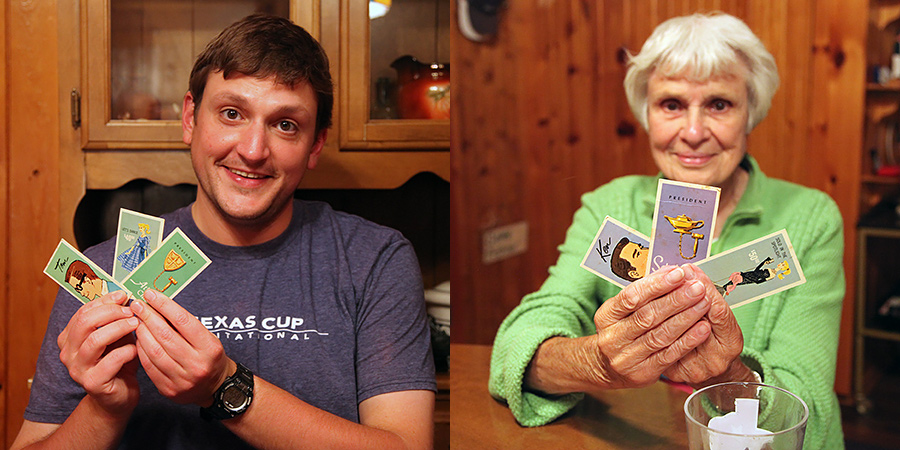 The sunsets are quite beautiful from our property. Every evening is filled with listening to the loons call on the lake. If you've never heard a loon, here's an example.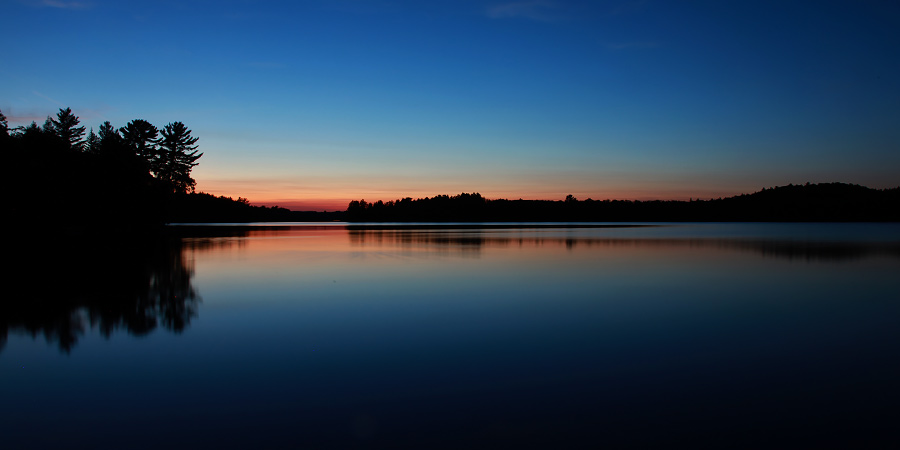 Mornings are typically filled with coffee and the Canadian NPR station. My grandma's love for NPR was passed down to me – it's about all I listen to now. The lighting this morning was really beautiful, so I figured it'd be okay to snap a picture of myself… yes.. a selfie.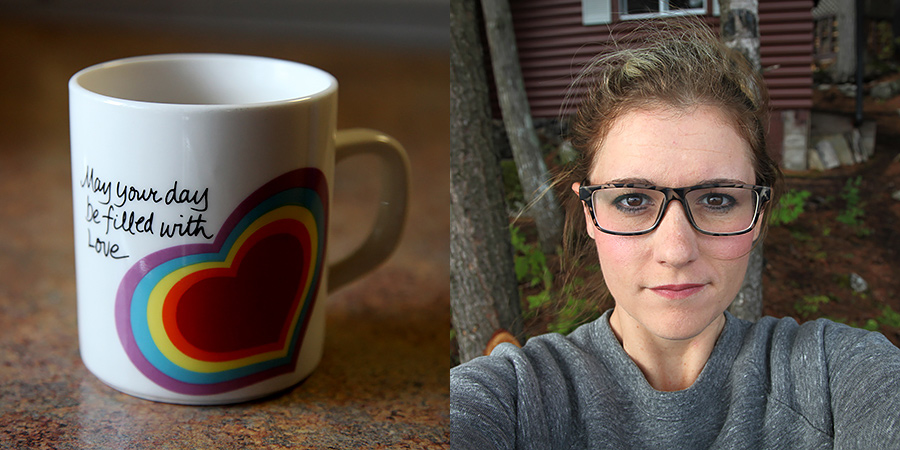 After breakfast on our last day there, grandma and I took Nathan to the rocks on the Little White River. I have a lot of fond memories of playing on the rocks when I was little.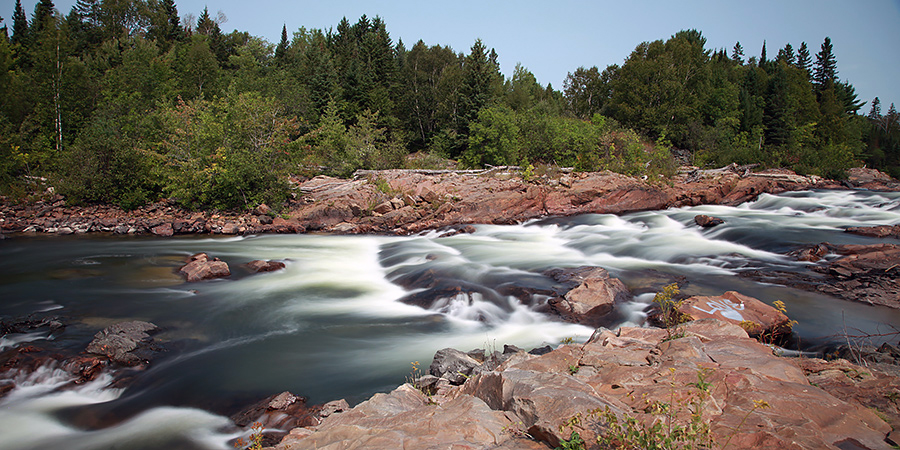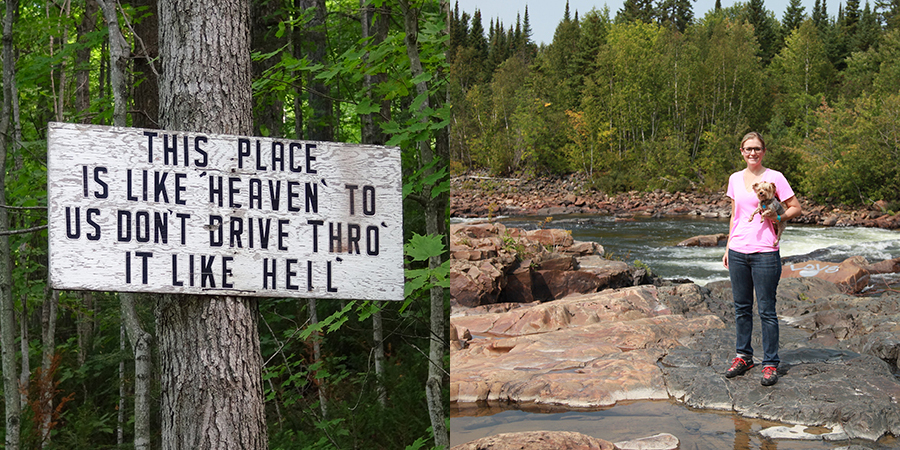 I was pretty excited to come here and test out my new ND3 filter. This was shot with my Canon 5D Mark II at an f22, 100ISO and for 30 seconds.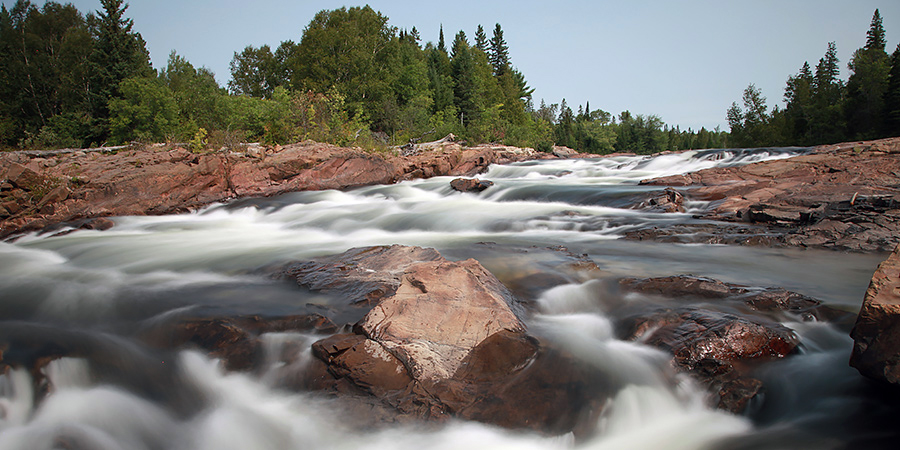 We ended our final day with another loop around the lake. I can't think of a better and more relaxing way to end this quick trip.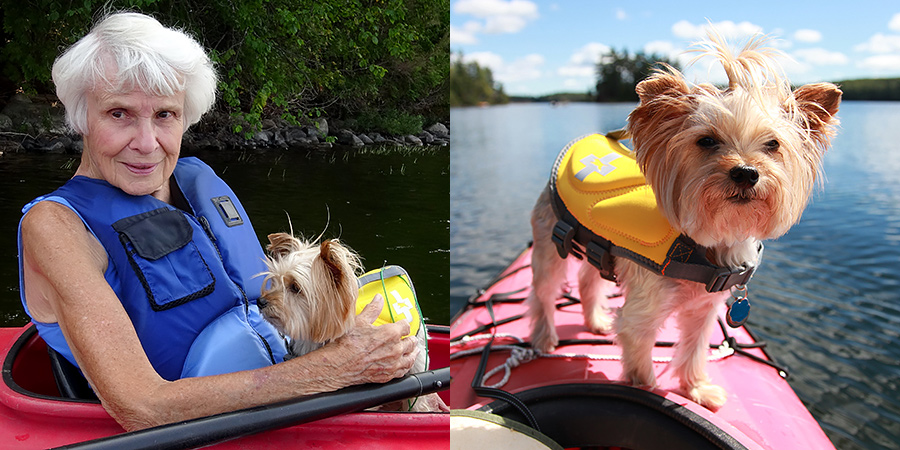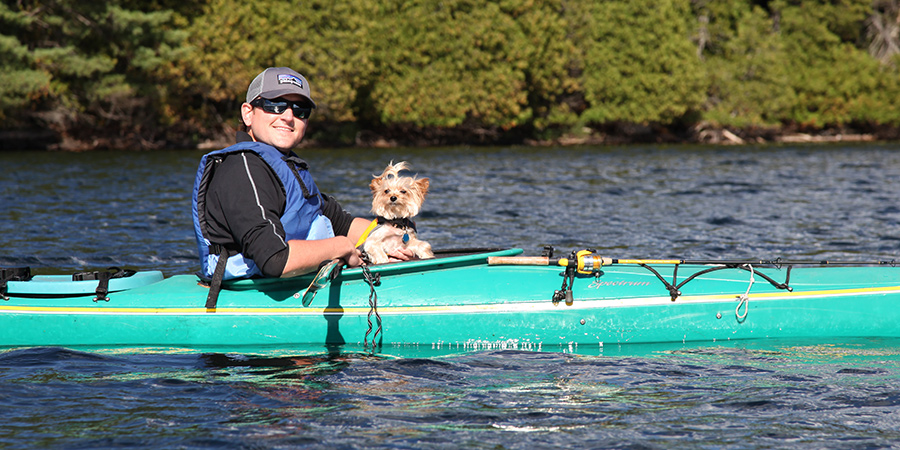 I love this shot of Grandma. She's incredible. 87 years young and still gets in a kayak (on her own) and cruises to the middle of the lake. She's my hero and I'm blessed to have her in my life.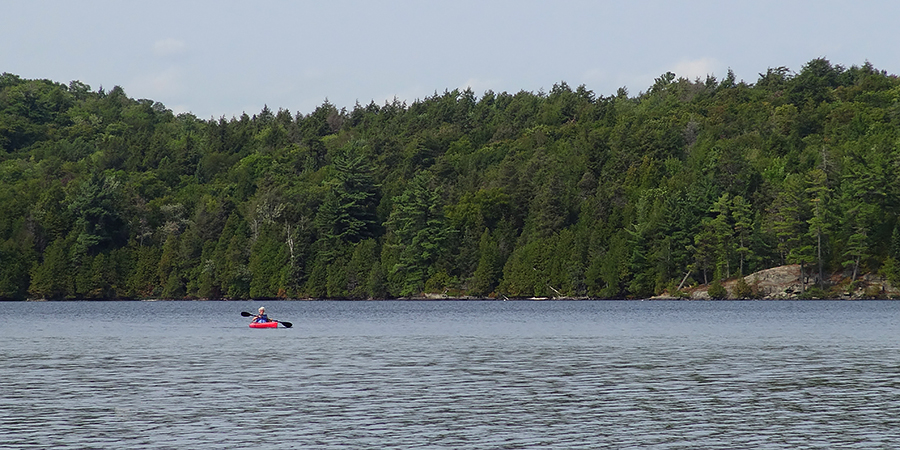 Just in case you want even more, here's a more in-depth look into our trip. Enjoy.