ARRIVAL
This place is so cute! We are staying in Hot Springs Village, a 26,000 square mile master planned community about 15 miles north of Hot Springs, Arkansas. Basically it's a retirement community but it's awesome! There are 9 golf courses, 13 tennis courts (real clay courts) and 11 lakes. Our condo is a great little 2 bedroom / 2 bath and it was only $90 a night. We found it on VBRO and are super pleased with it.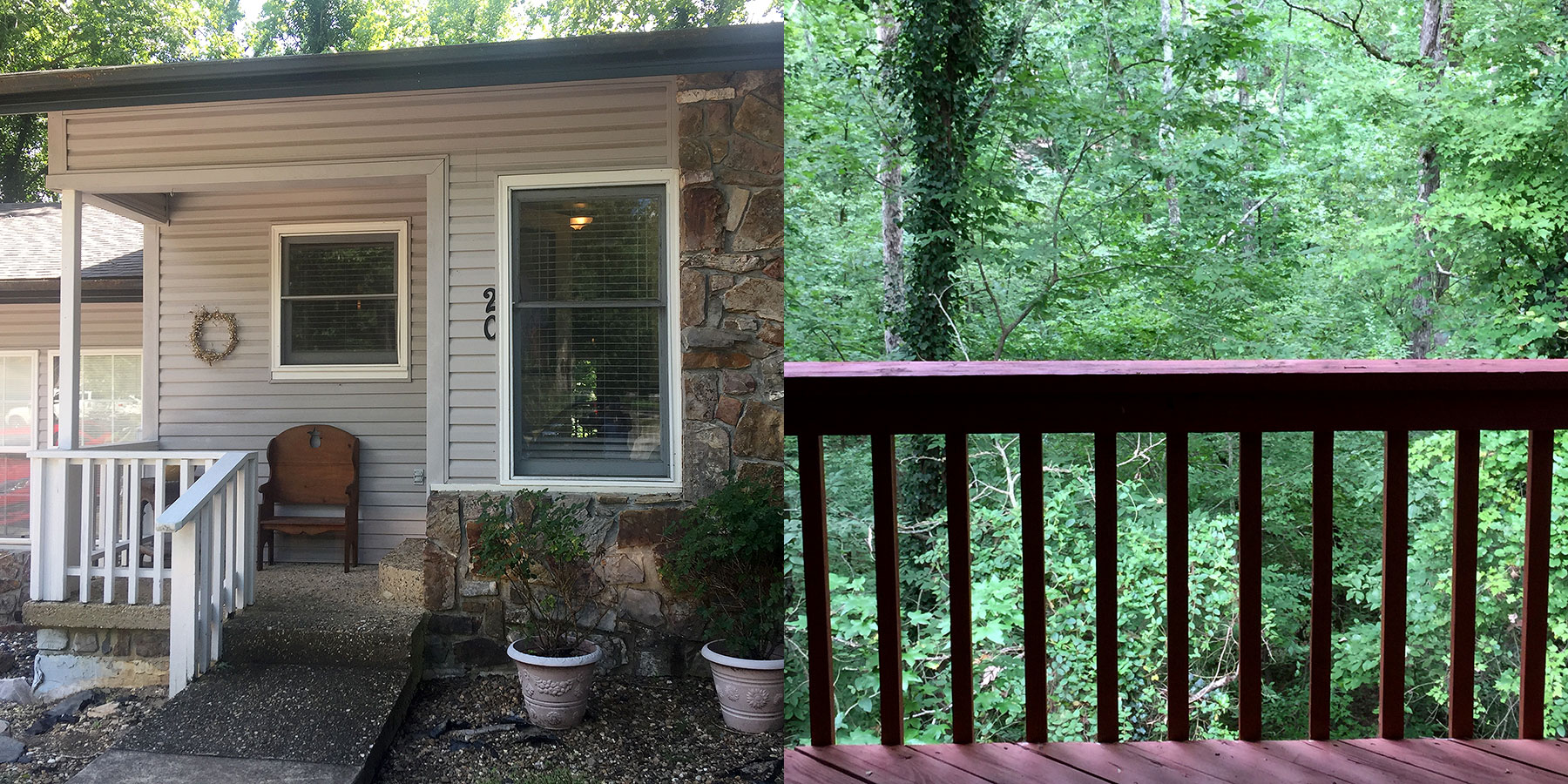 For dinner we checked out a cute little Italian restaurant called Italian House & Grille. Nathan got the Sausage Carbonara and I got the Eggplant Parmesan. Both were so good, I'd definitely recommend this spot for anyone staying in the area.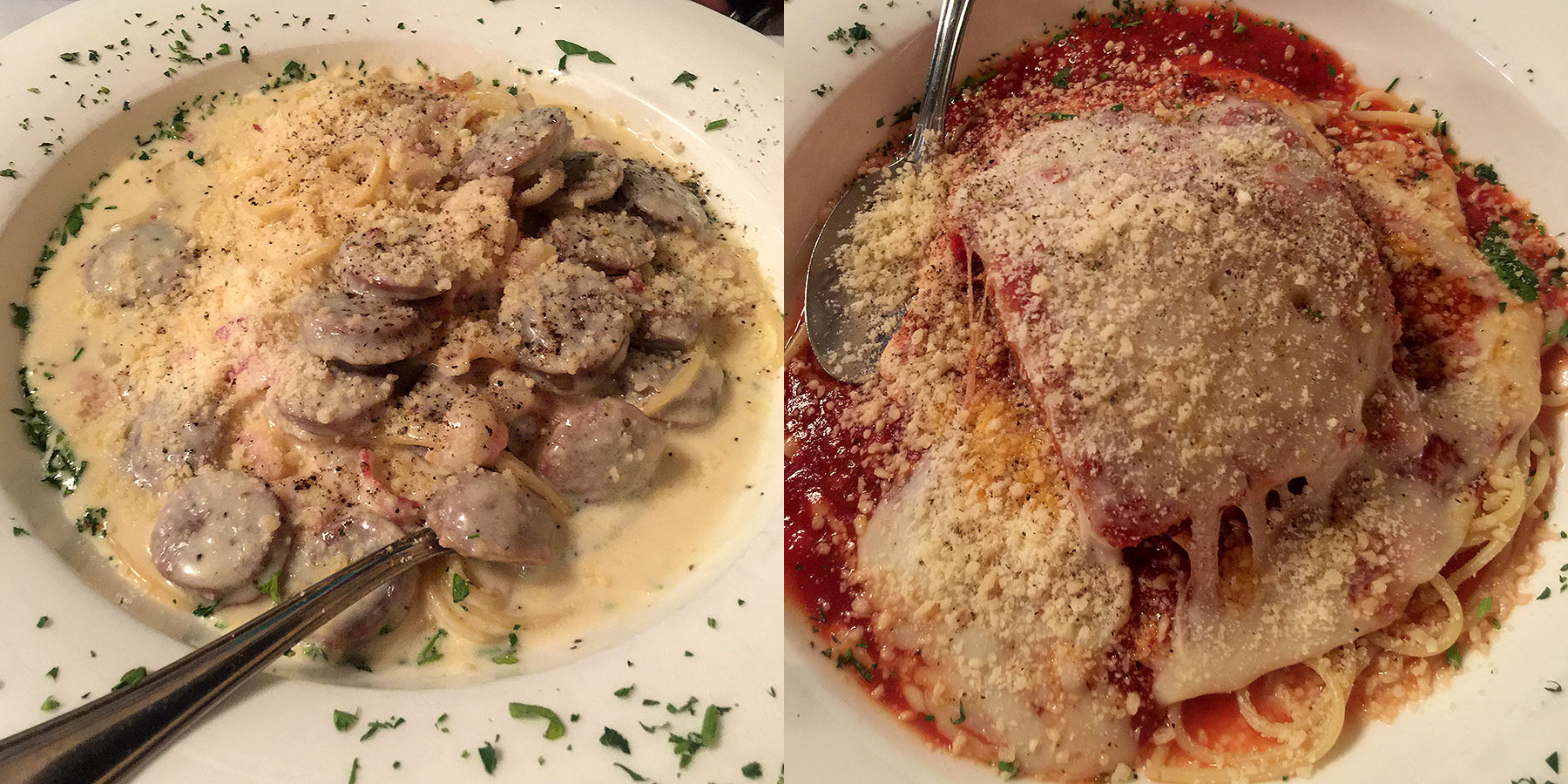 DAY 1

We woke up early for our tee time at the Cortez Golf Course. For this round we were teamed up with a nice guy named Craig. He had a suped up custom golf cart that was complete with arm rests and massive tires. He said it could top speeds of 35 mph.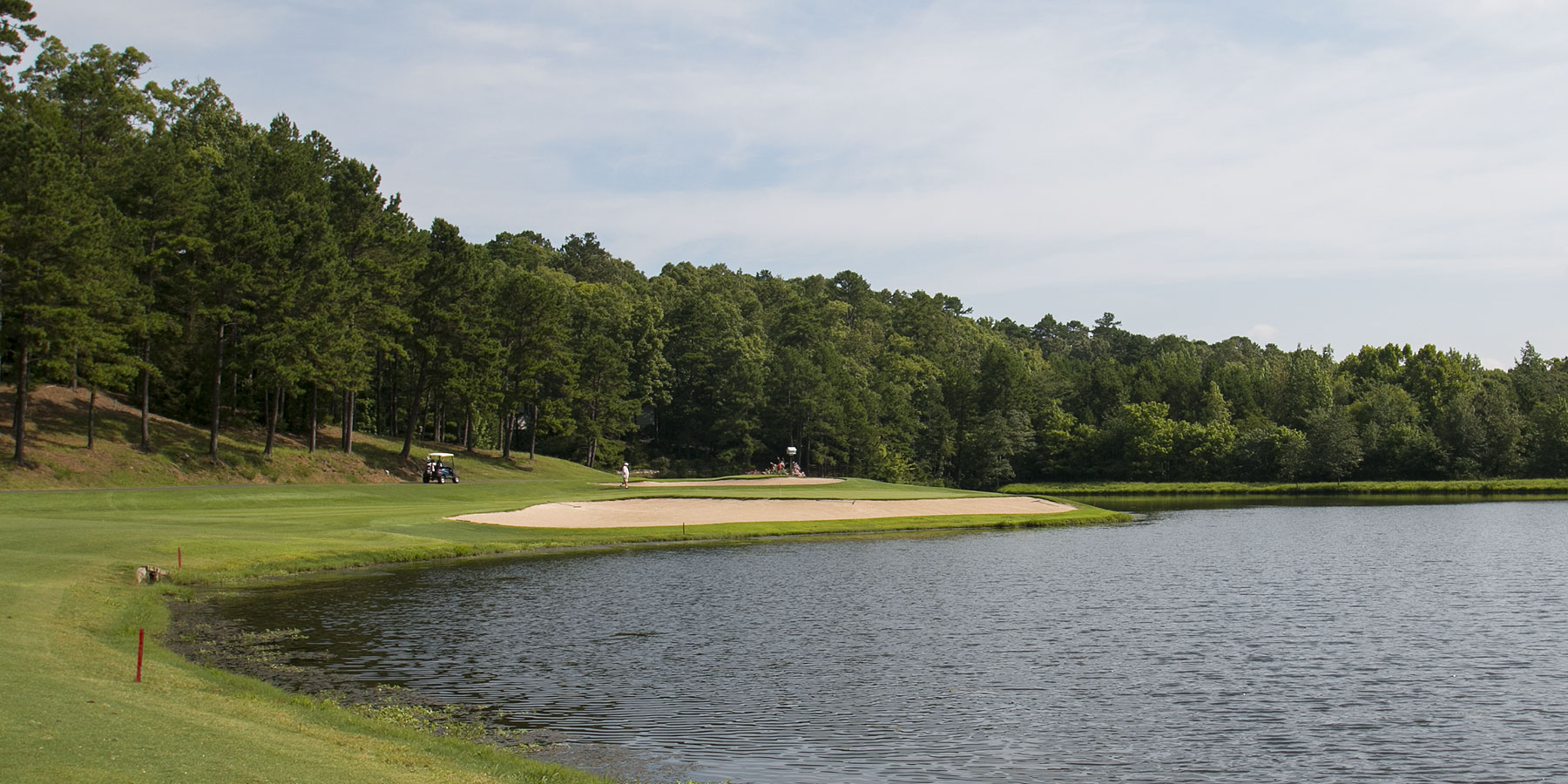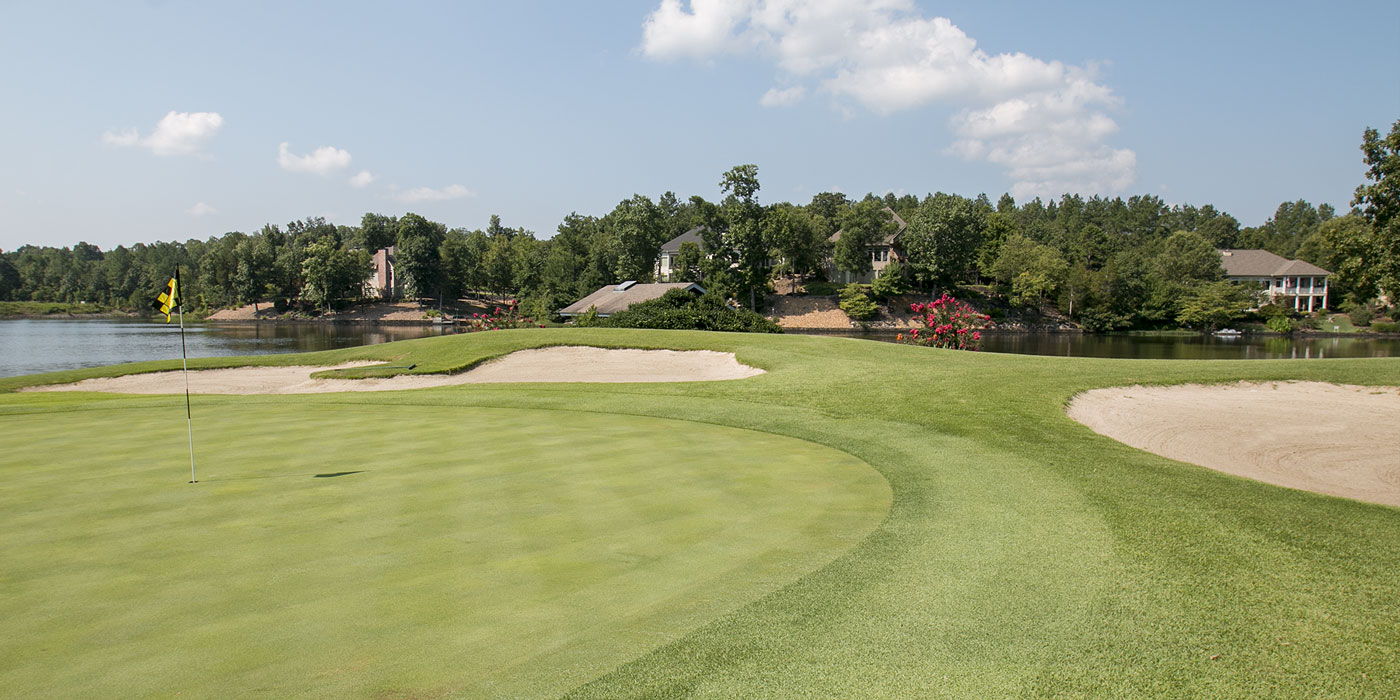 Lunch after was great, we both got the meatball sub. After taking the dogs on a good walk, we ventured over to the tennis courts. As usual, Nathan creamed me, but it was so fun for us to both play on clay courts for the first time.
DAY 2

This morning we made breakfast burritos at the house before venturing off to the town of Hot Springs. The first stop was Buckstaff Bathhouse. I've never been to a bath house but figured "when in Rome… or… when in Hot Springs…"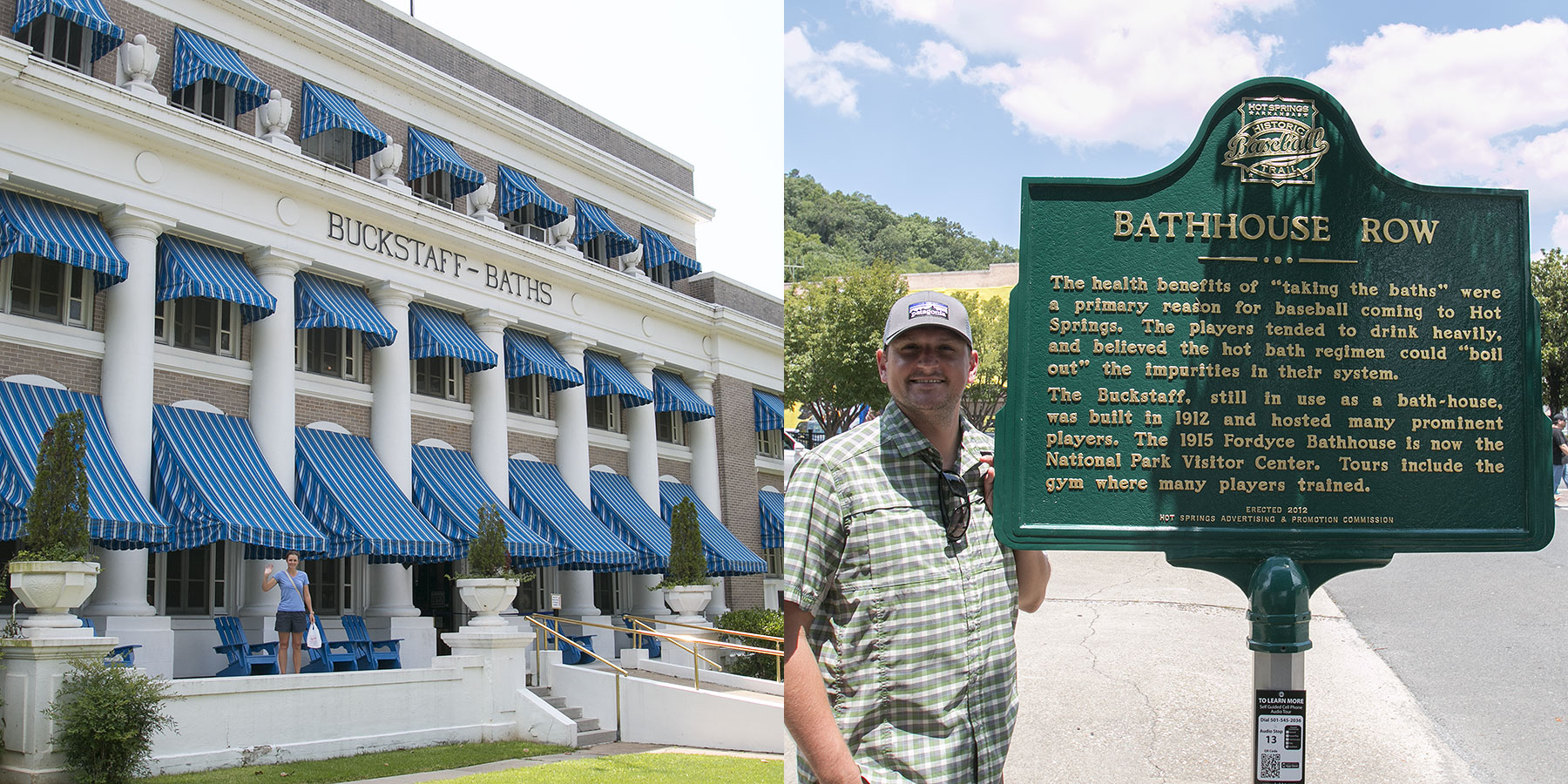 Y'all. I love massages so figured it'd be just another day at the spa. It was, but it wasn't. I checked in and was taken up an old timey elevator and literally felt like I was walking onto the set of an episode of American Horror Story, but in a good way!
I entered into the locker room and an attendant showed me to the changing room. I took everything off and stored it into my locker. The attendant asked if I was ready and I said "yes ma'am". She told me to turn around and lift my arms up and she proceeded to wrap a white bed sheet around my body and we are off to the baths!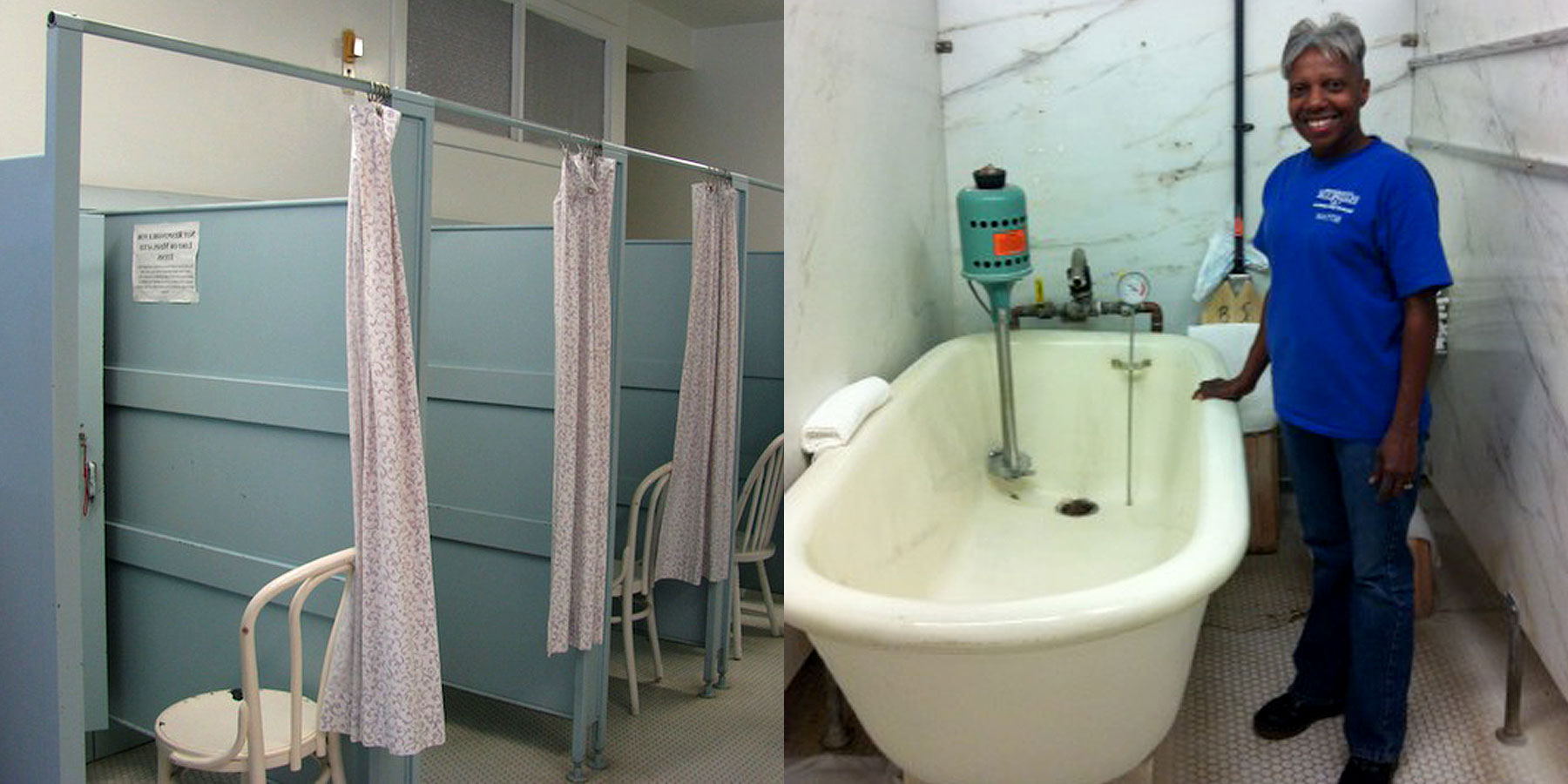 We walked into another room (all the walls are beautiful marble). Each old timey bathtub was in it's own little nook. Think of little stalls the size of a women's handicap restroom. Mattie, the sweet lady who helped me, followed me in the stall and said "go ahead ma'am, hop in the tub." (I knew I'd be naked, but I guess I wasn't sure exactly how this worked.) I dropped the sheet and hopped in the tub. The water was hot, about 105 degrees, and Mattie then took a loofa and scrubbed my arms and back. She then filled the rest of the tub with hot water and started the old timey jacuzzi bubbles. She then gave me a little cup of super hot spring water and I sipped on that while soaking in the tub. Mattie left and I couldn't help but get the silent giggles. After about 20 minutes, Mattie came in and dried me off.
Next up was the hot towel station. Mattie put several hot towels on a little padded table that I laid on top of. Once lying down, she put several more hot towels on my stomach and legs. Then I was given an ice cold towel for my face. Every so often I was given cold spring water to sip on. I was here for about 15 minutes.
Next up was the funniest station. Mattie directed me to step inside this metal box (shown below). Once I was in there, my sheet was taken again and I sat down. She then closed the top on me and literally just my head was poking out of the top. It's hilarious, you are literally sitting in this metal box completely naked, with just your head poking out.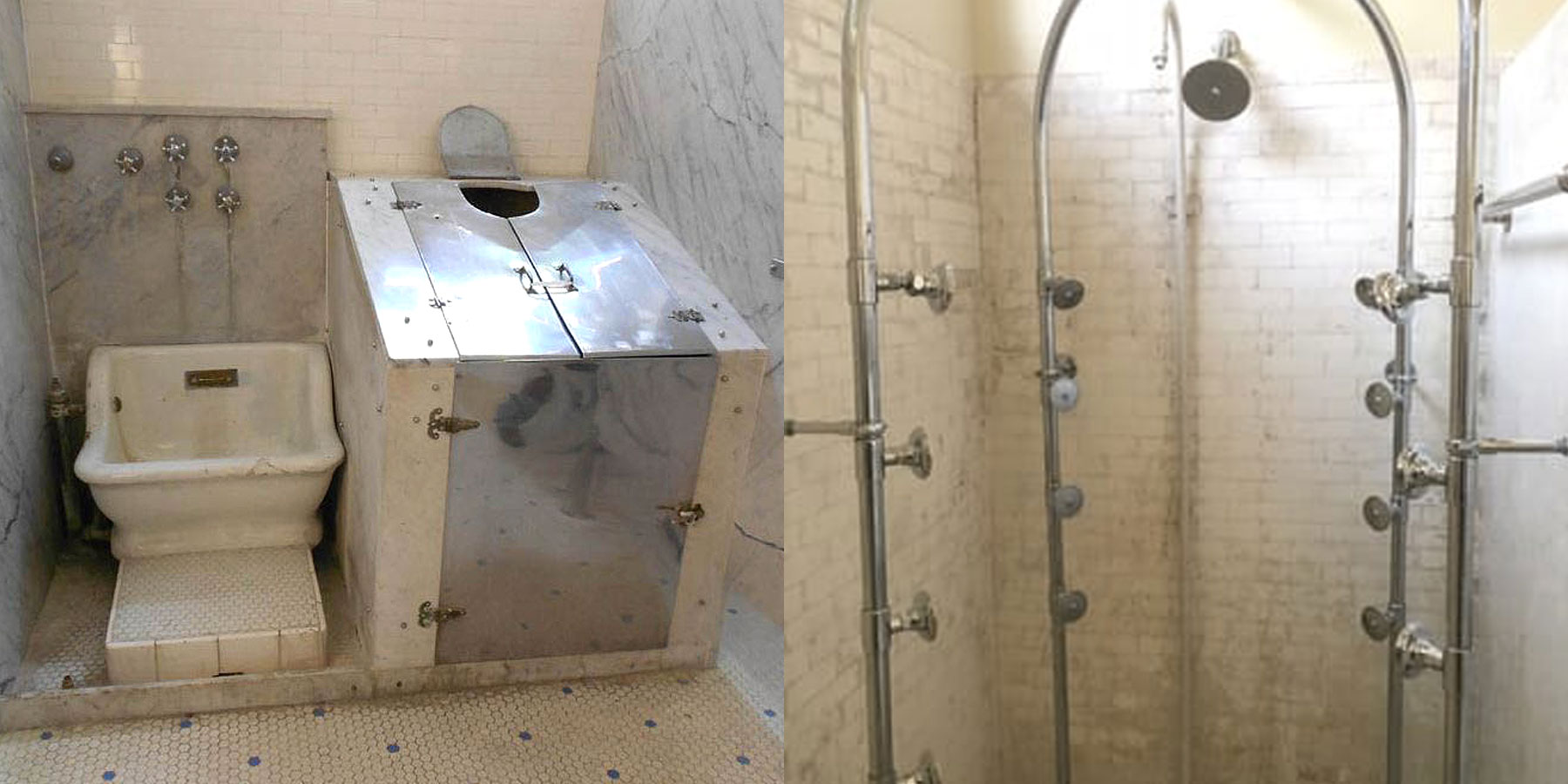 Then came the Sitz Bath. Once I was wrapped up in the sheet again, I was directed to sit in this mini bathtub. It kinda looked like a hybrid between a bathtub and a toilet. The water inside was super hot and you just sit in there, with your fanny in the water. Your legs and feet are just hanging out. I suppose this really helps your lower back. After about 10 minutes, we moved to the next station.
Mattie showed me to this really cool old shower (shown above). The shower heads completely surrounded me and I just stood there for about 5 minutes. Mattie dried me off and took me to the massage therapist.
The massage was pretty quick but felt wonderful. If I could get a massage everyday, I would. After the massage I had a lavender paraffin treatment on my hand and that brought my time at Buckstaff to an end. The entire experience lasted about 2 hours and only cost $80. This was the funniest/most interesting experience and I'd highly recommend it to anyone visiting Hot Springs.
After that Nathan and I went to the Gangster Museum. We couldn't believe how many gangsters (Al Capone, Bonnie & Clyde, Machine Gun Kelly, Charles "Lucky" Luciano, Owney Madden, John Dillinger to name just a few) vacationed in Hot Springs. The unwritten rule was if you were a gangster here on vacation, you couldn't kill another gangster.

Lunch was delicious, we went to The Ohio Club, it's known for it's burgers and Al Capone used to frequent the restaurant.
After lunch we were walking along the promenade by the main drag, it's so cool in that area. We were overlooking the main street and Nathan said "this looks like a nice spot" and I said "yeah, this is really pretty" and I looked over there he was on one knee! He was so sweet and of course I said "yes"! I'm really excited to get to do life with him. We then called both of our parents and everyone is just so happy for us! P.S. I love my ring. 🙌🏼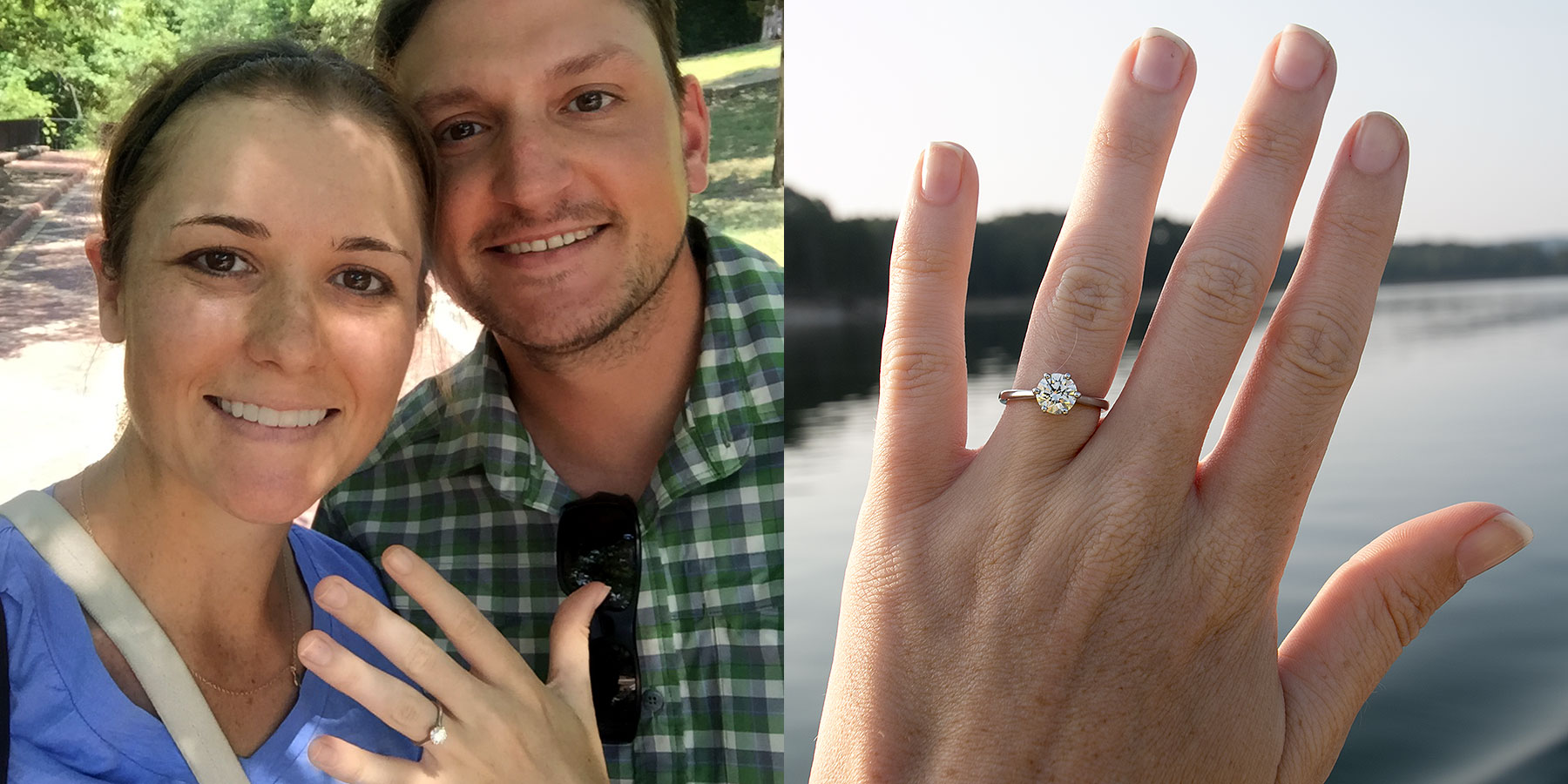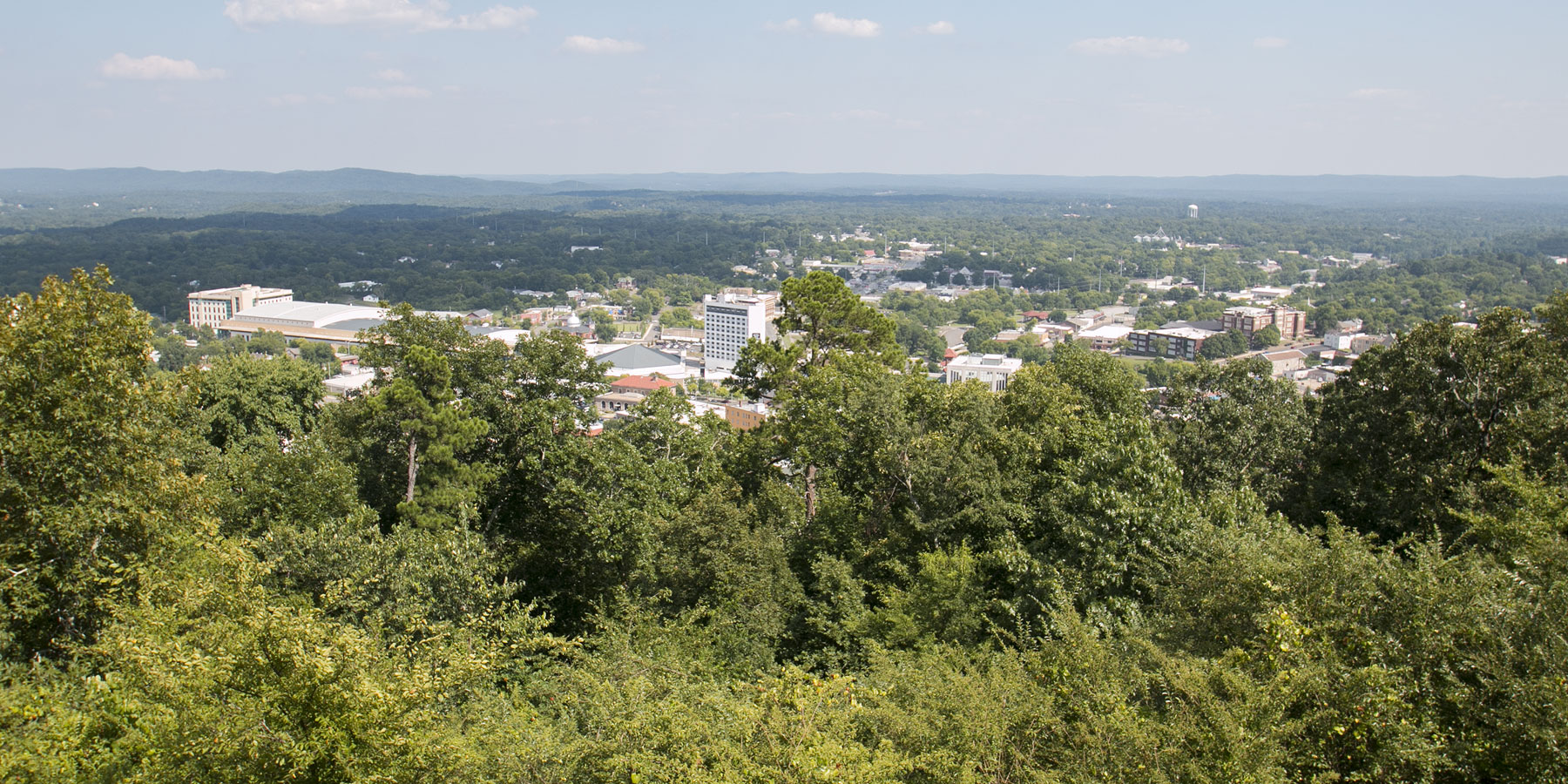 Afterwards we went hiking on this awesome trail in Hot Springs National Park. The hike was just over 2 miles long and we worked up a sweat. The views were really cool and it's convenient that the National Park is right by town. (Please note the sweat on my shirt…like, really?!)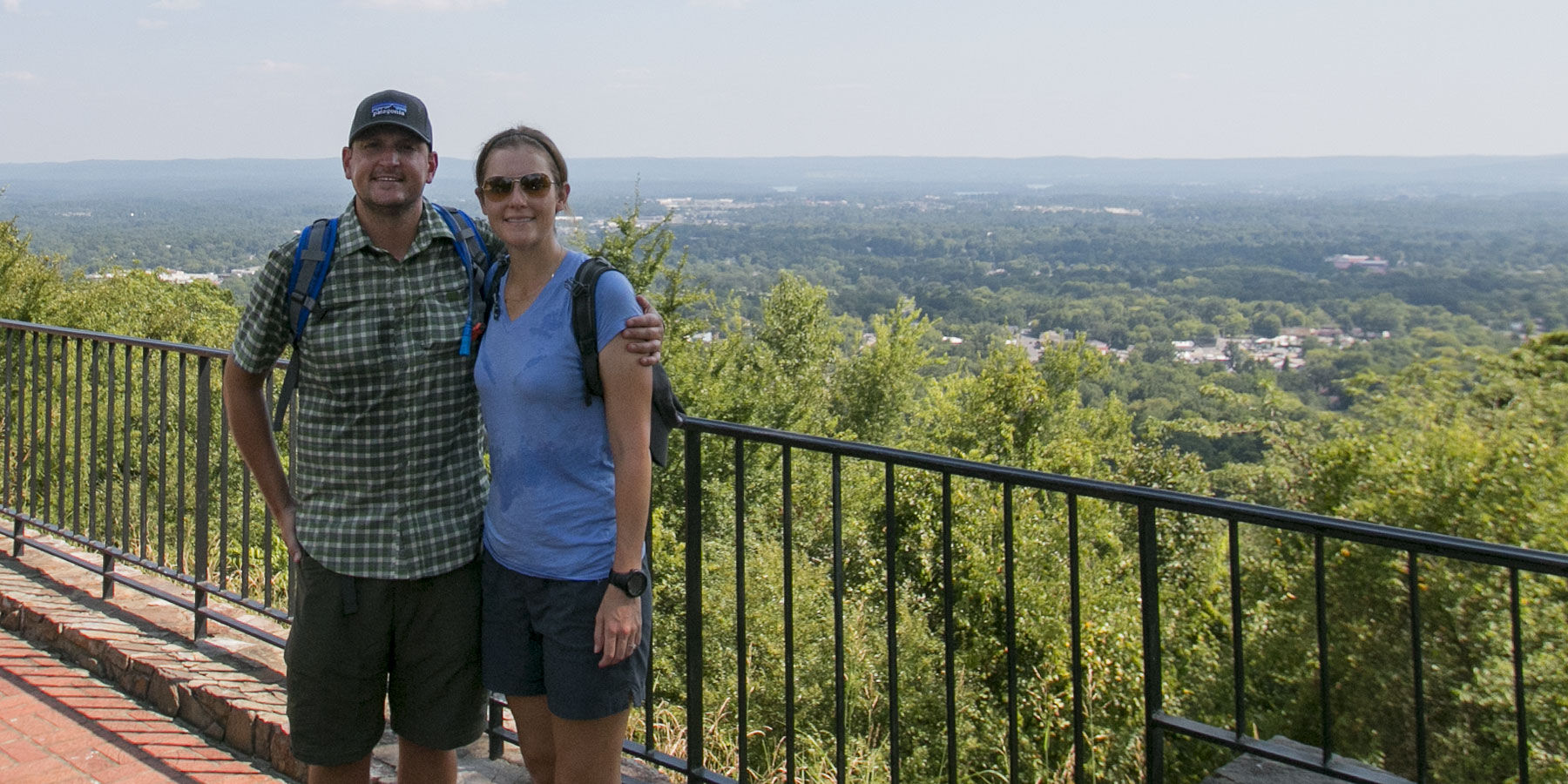 For dinner we checked out a little Hibachi place that was delicious. I was happy to see that they had Terry Ho's Yum Yum Sauce on the menu. Literally that's the best.
DAY 3
We woke up and played 9 holes at Coronado, the short course. It was fun, but not much to it. It's just par 3's and par 4's with no water and no bunkers. We both should have played better than we did.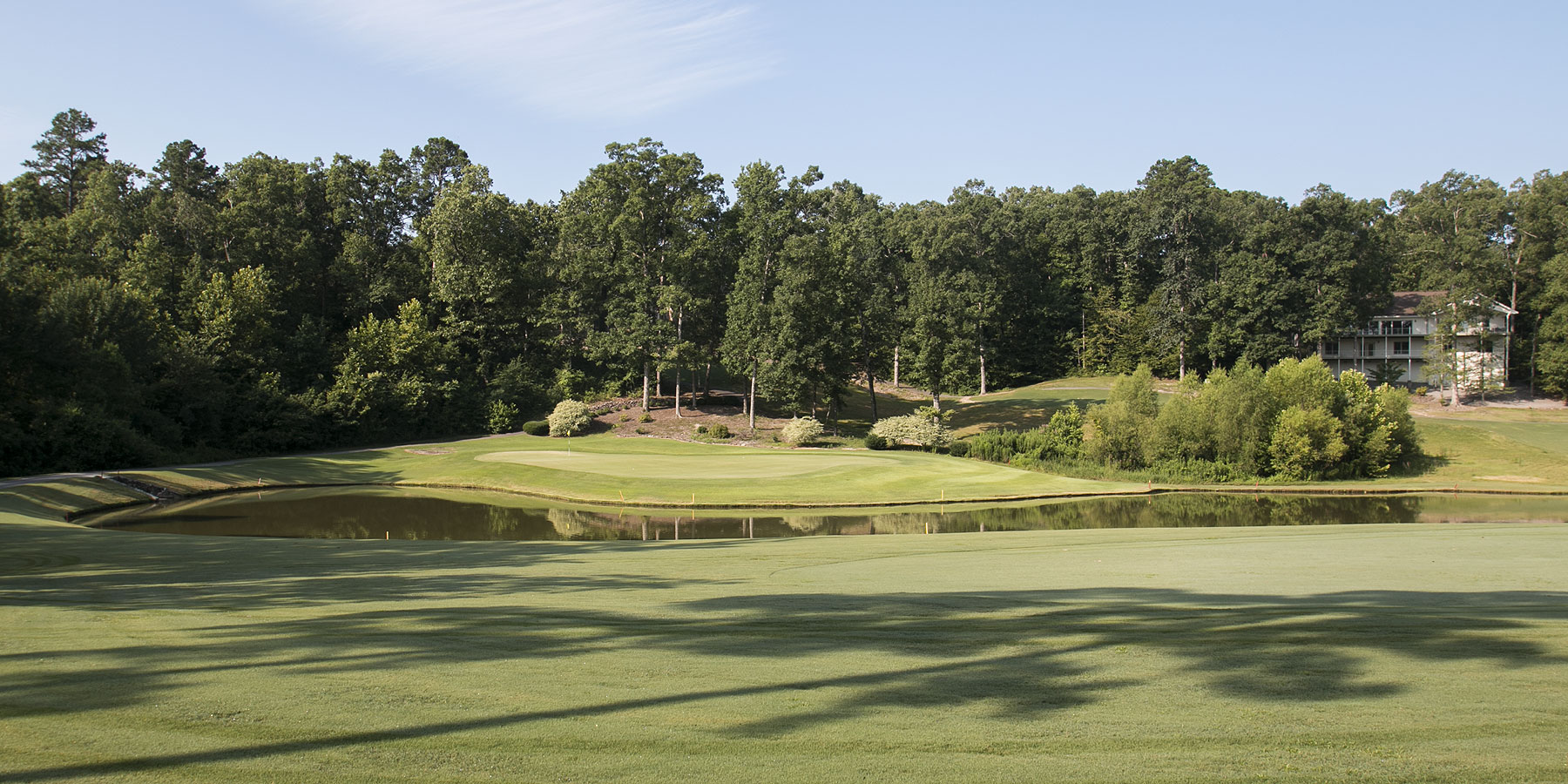 It's pretty hot here, so after we grabbed lunch, we just hung out until it was time to head back to Hot Springs for dinner. Nathan found a great little pizza place, Brick City Pizza, which ended up being a great hole-in-the-wall. Nathan got the Supreme and I got the Six Cheese with stuffed crust. Can you tell I love cheese?
After dinner we stopped at Fat Bottomed Girl Cupcakes, which was apparently featured on the Food Network's Cupcake Wars. We got the strawberry cheesecake, vanilla bean and buttermilk cupcake. They were all delicious! Following that was the Maxwell Blade Magic Show. Honestly, he was fantastic! For $20 he performed about an hour and a half and was great. Very entertaining!
DAY 4
We woke up super early this morning to make our 7:45 am tee time at Magellan Golf Course. We really enjoyed this course, several beautiful holes and it was also in great shape!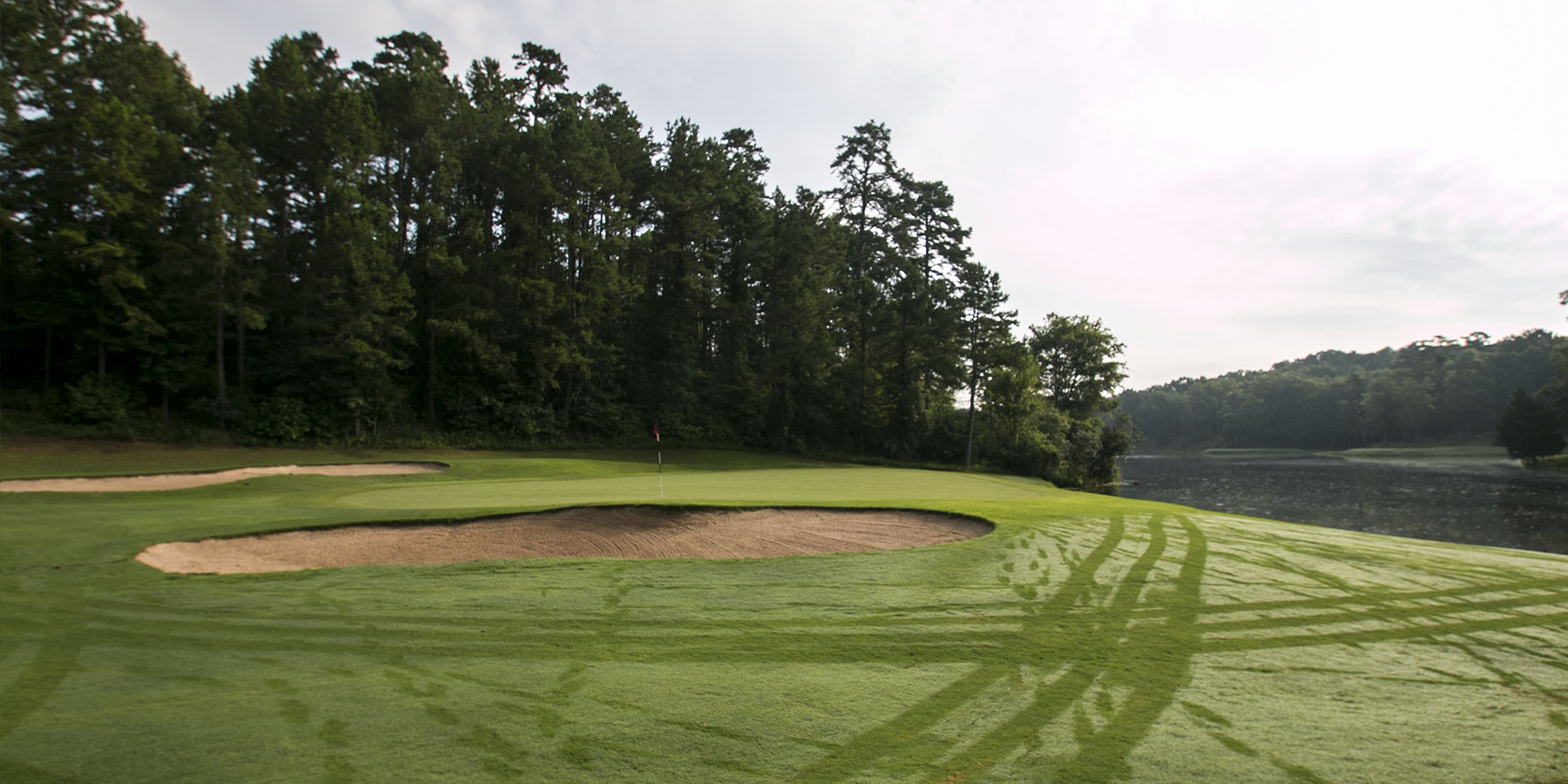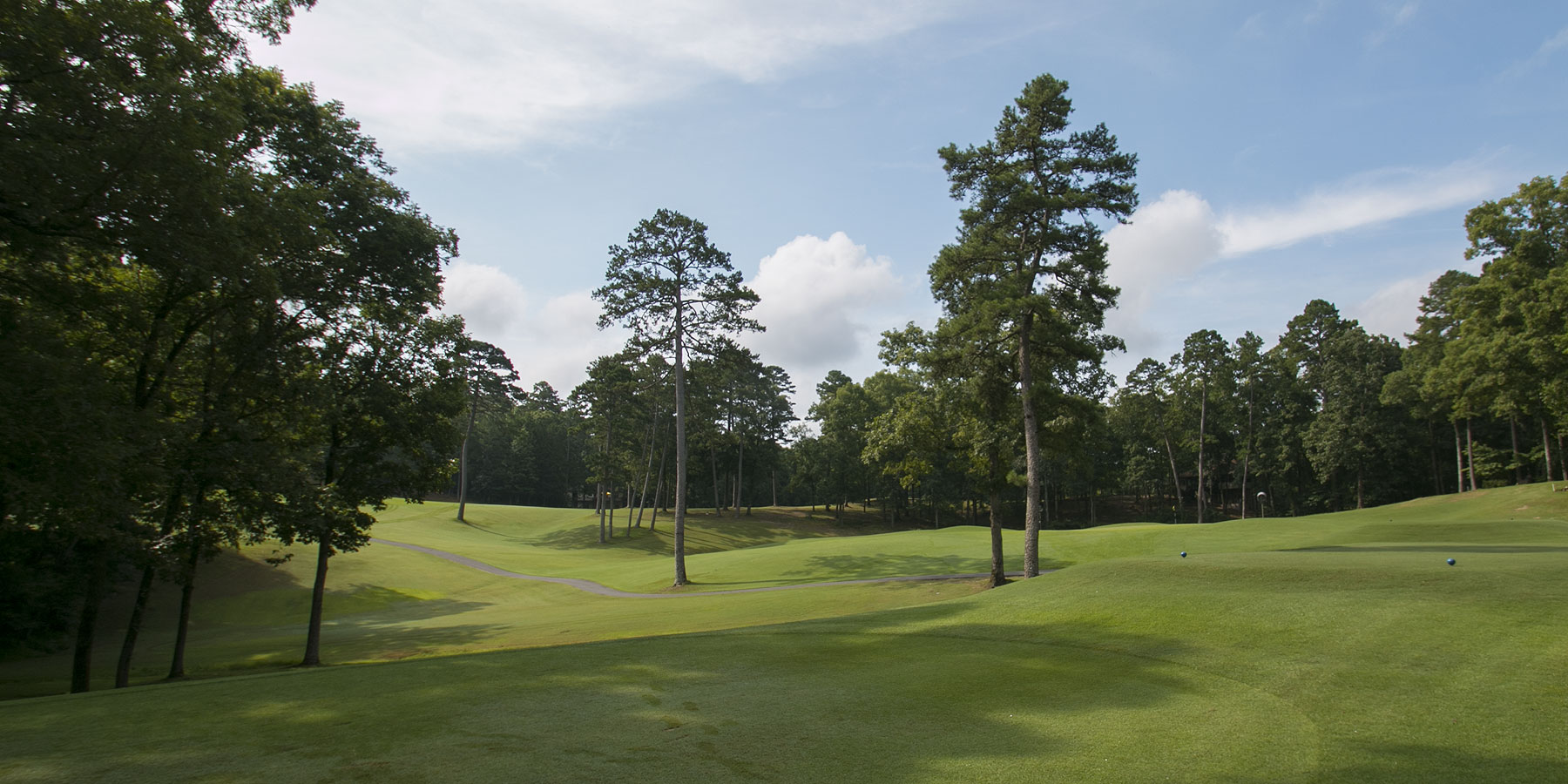 For lunch we had a hot dog at the little restaurant at the course and I treated myself to a good ole' root beer float.
After we napped and rested (it's a hard life, I know) we played another friendly game of tennis. I lost 9 games to 5 but am definitely getting better.
DAY 5
We woke up at 4 am to do our guided fishing trip. We've both been looking forward to this and were ready to go! We met our guide at 5 am at a local McDonald's and followed him to Lake Ouachita. This lake is massive and really pretty. Actually, parts of it reminded me of Chub Lake.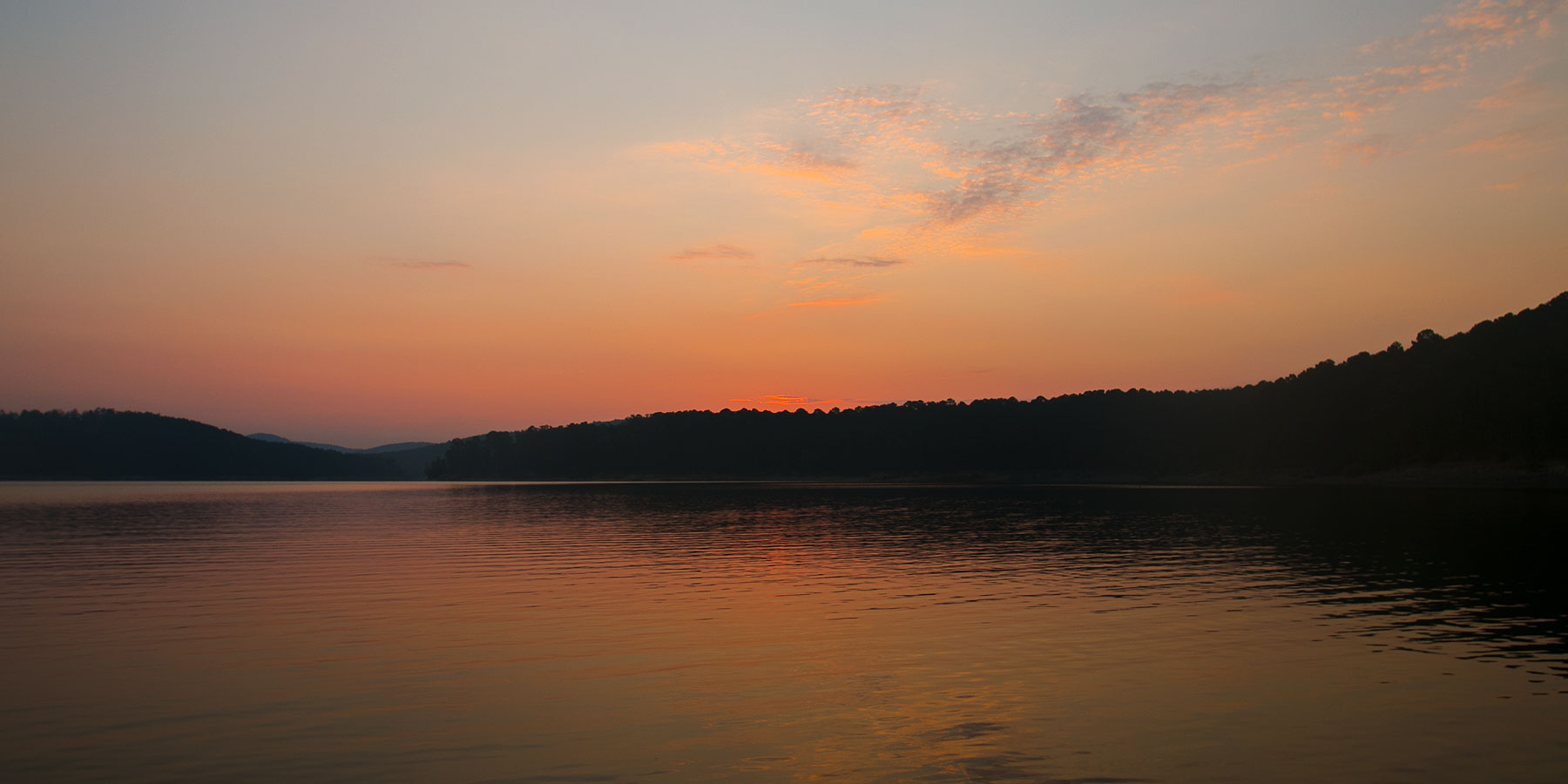 Y'all. We went all around the lake and nothing. I mean nothing. Not even one nibble. It was kinda' insane.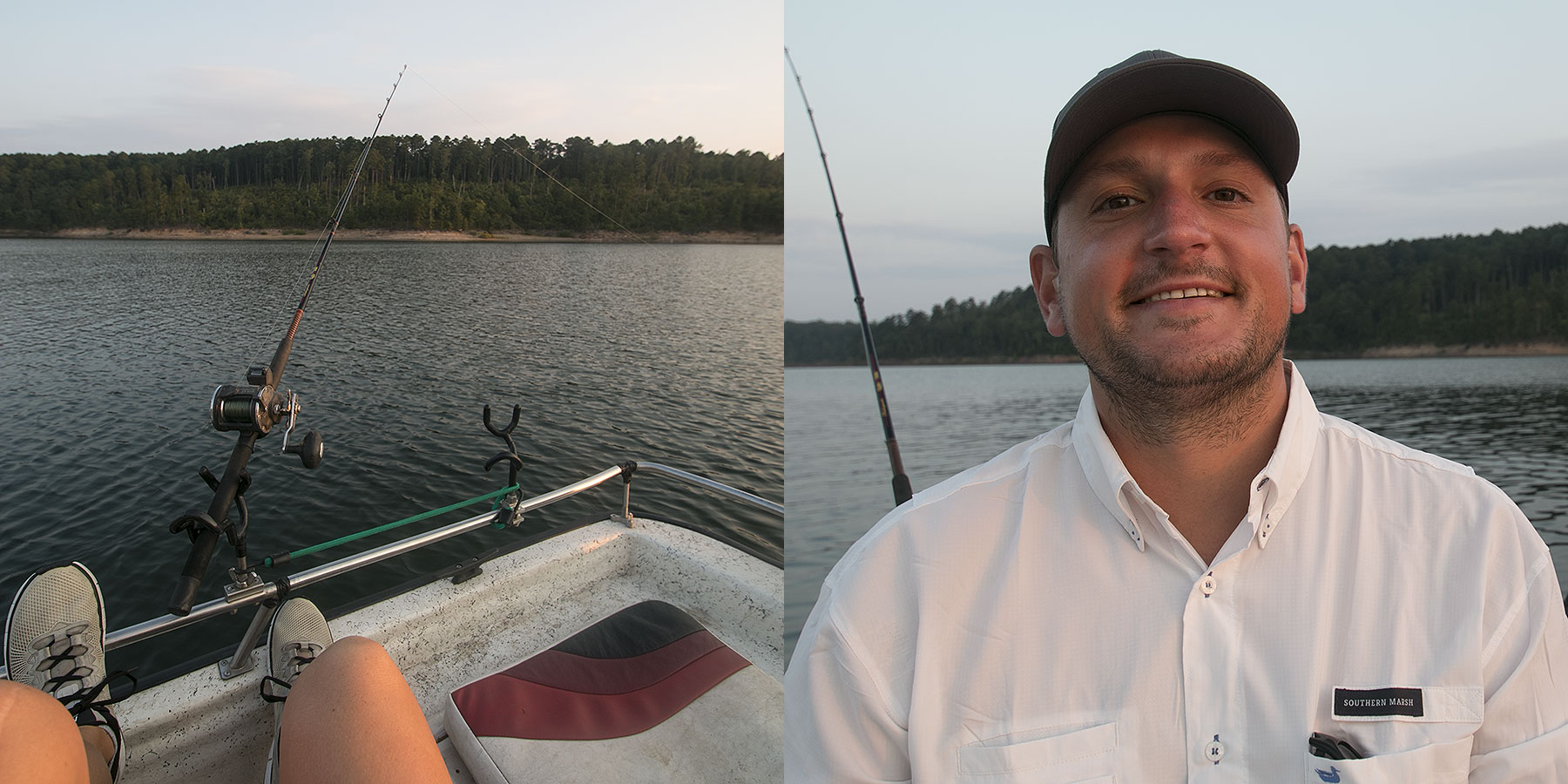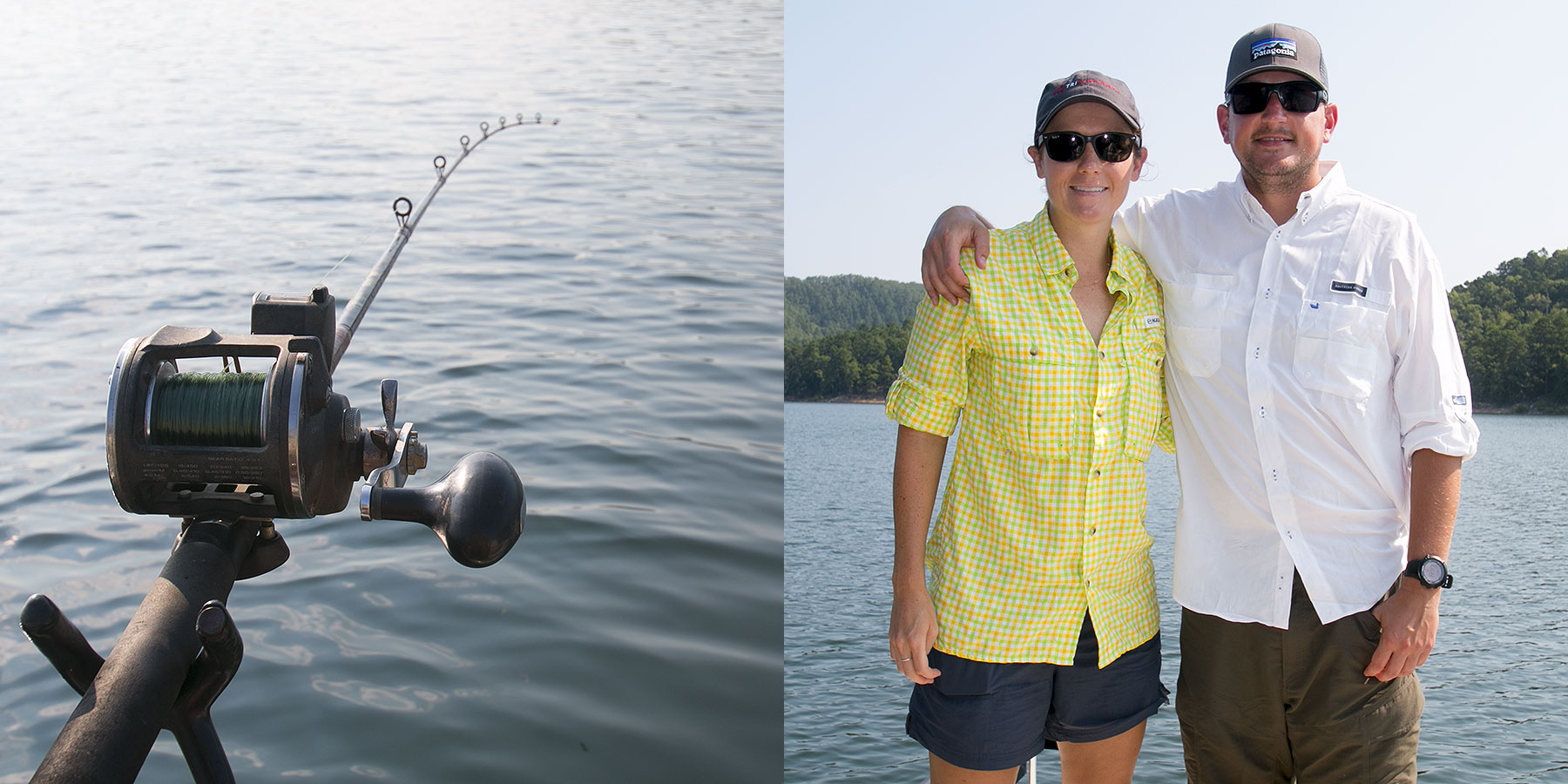 After over 4 hours we decided to call it a day. I just couldn't believe it, not one single bite, even with a radar. That's just pitiful. Everything else on our trip has been amazing but this was definitely a huge bust. Oh well, at least I got some nice pics out of it. What really surprised me was at the end of the trip, our guide still wanted the full $400. I completely understand that we used his gas and his time, but to not even get ONE fish… give me a break. We just gave him $200, which honestly, I think was more than generous. If anything, just put a minnow on a hook and let us catch some bait fish, we'd have been happy with just that. (I'm curious what everyone else thinks – comment at the bottom of the blog and let me know how you'd handle that.)
On our way back we stopped for a picnic and hike in Hot Springs National Park.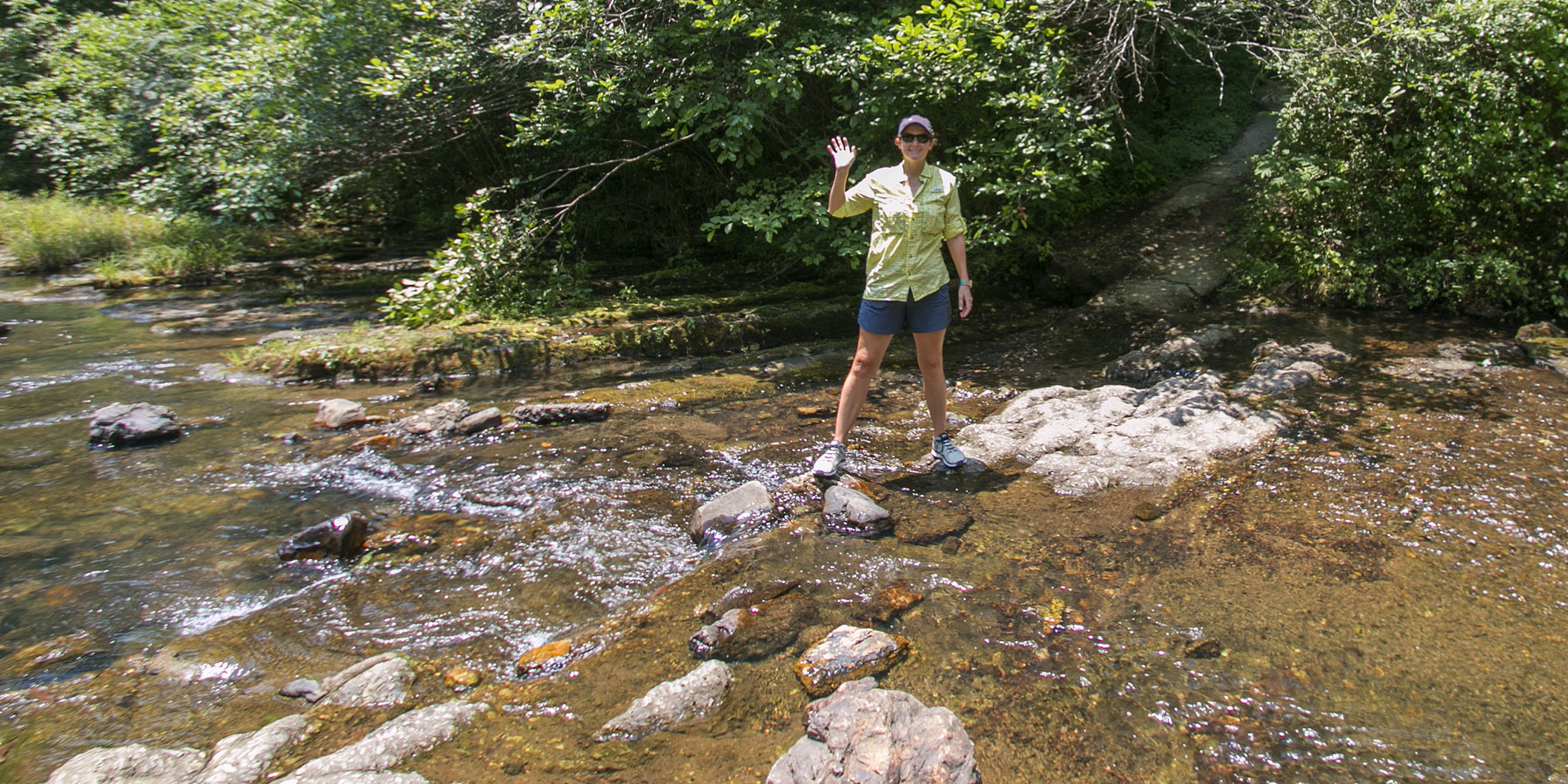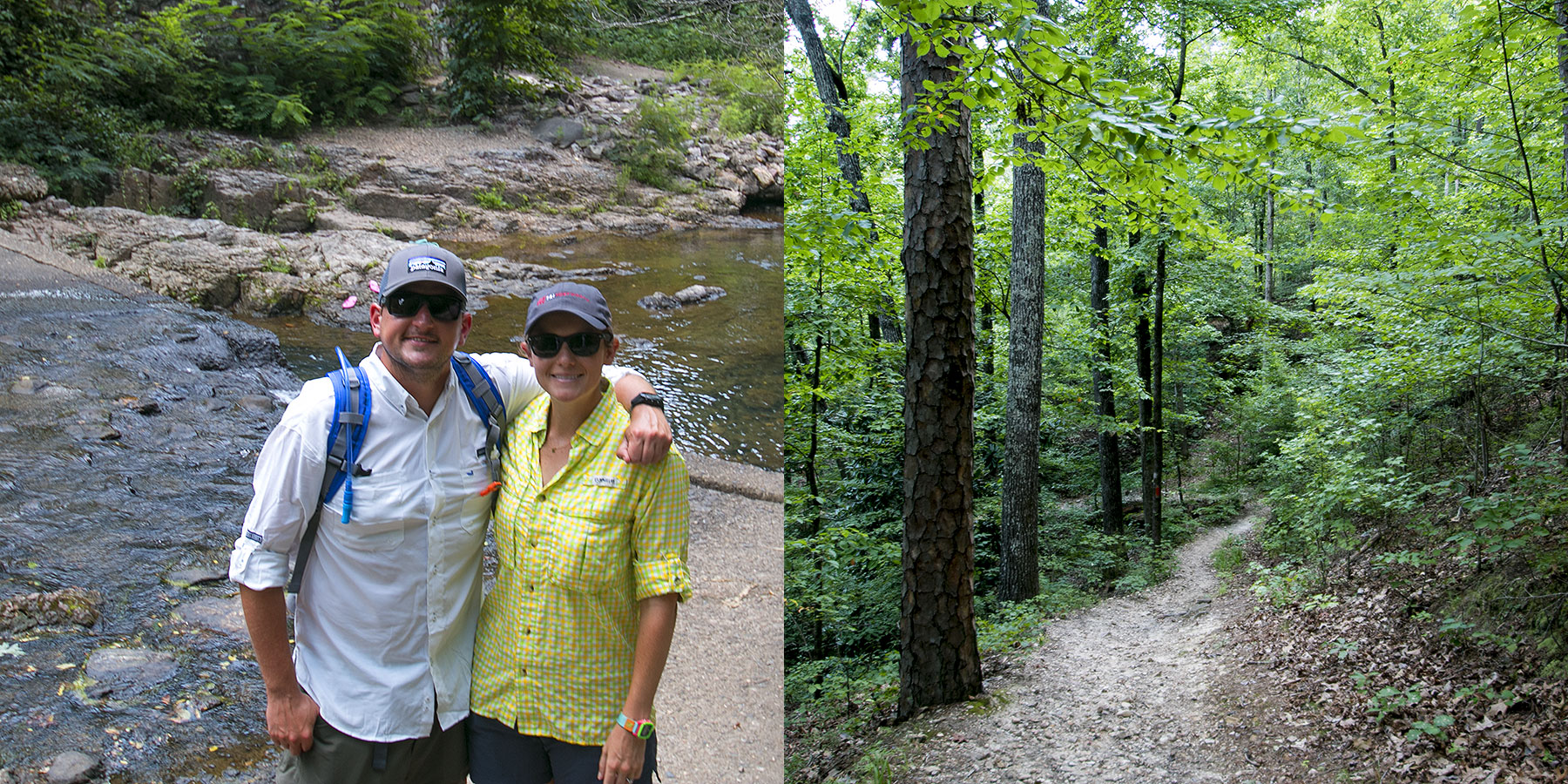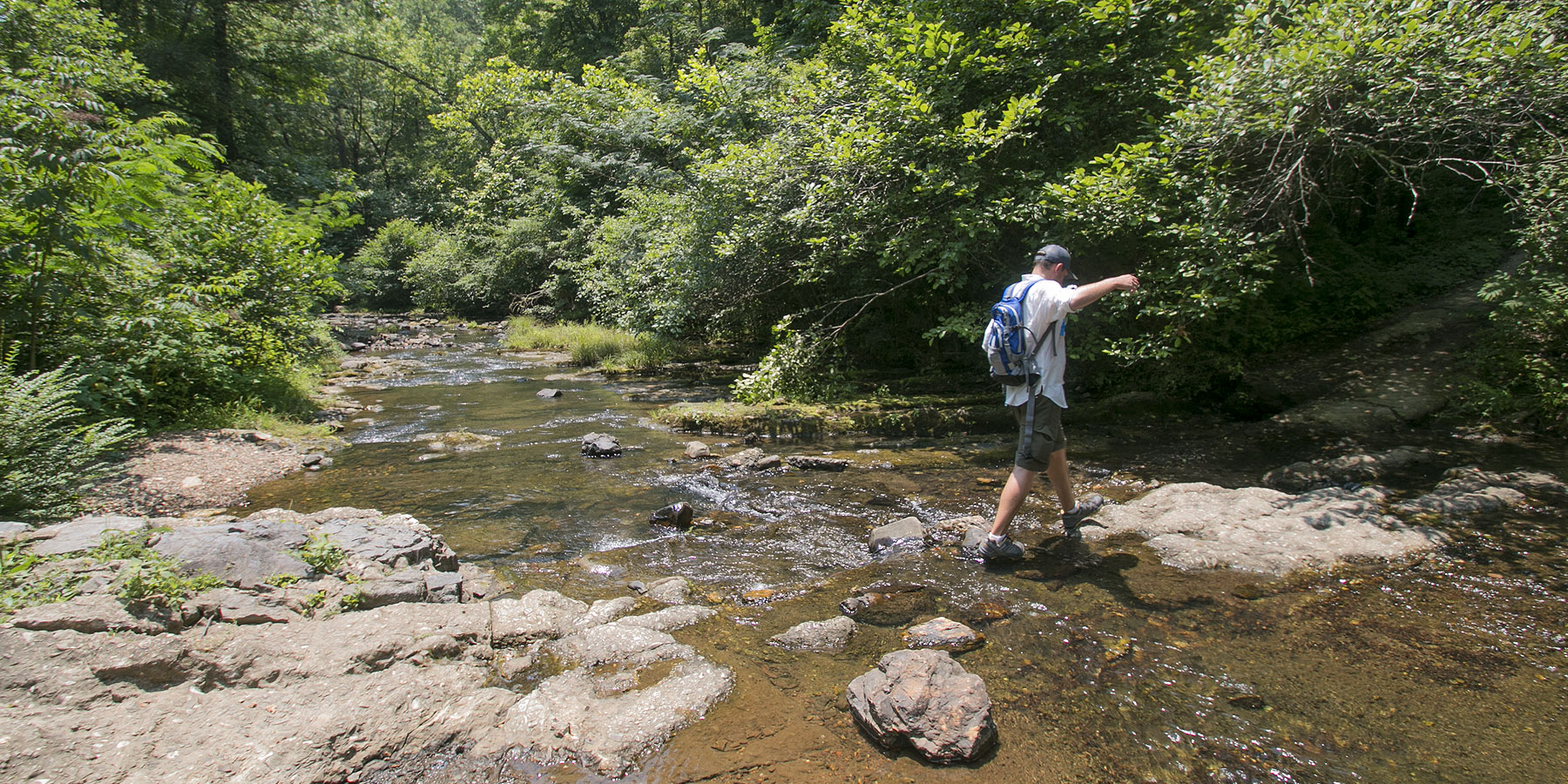 Again, after napping, we headed back to Hot Springs for a Murder Mystery Dinner Theatre. Neither of us had any idea what to expect but it ended up being a blast! The dinner was a pretty good all-you-can-eat buffet (yes, we did eat all we could eat) and the show was really funny. It was called Murder at the Howard Johnson's!
DAY 6
Our last day in Hot Springs Village – I can't believe how fast this week went. This morning we played the Nina Course at Isabella. Originally we were going to play all 18 but it was so hot, 9 was all we could do.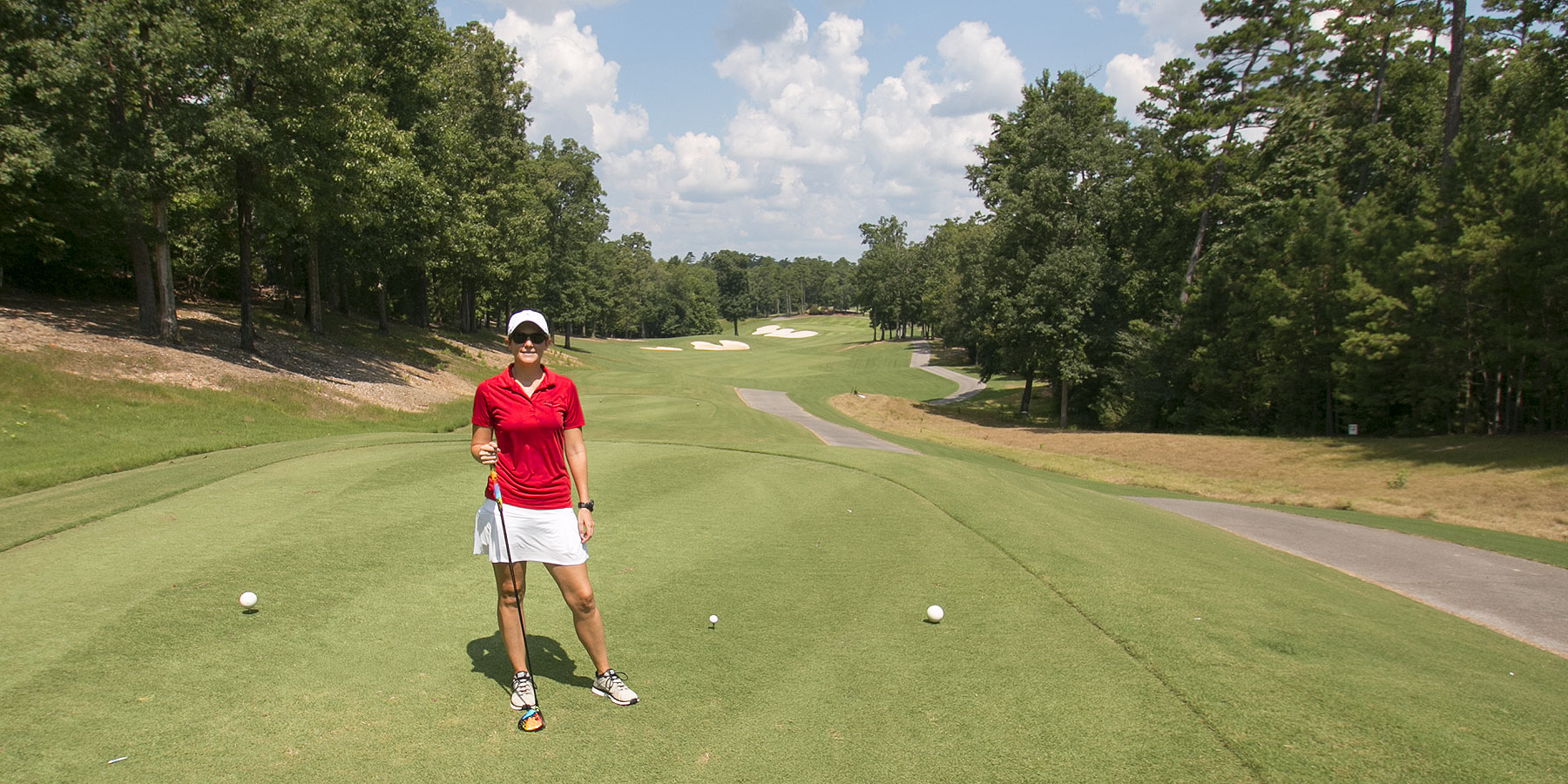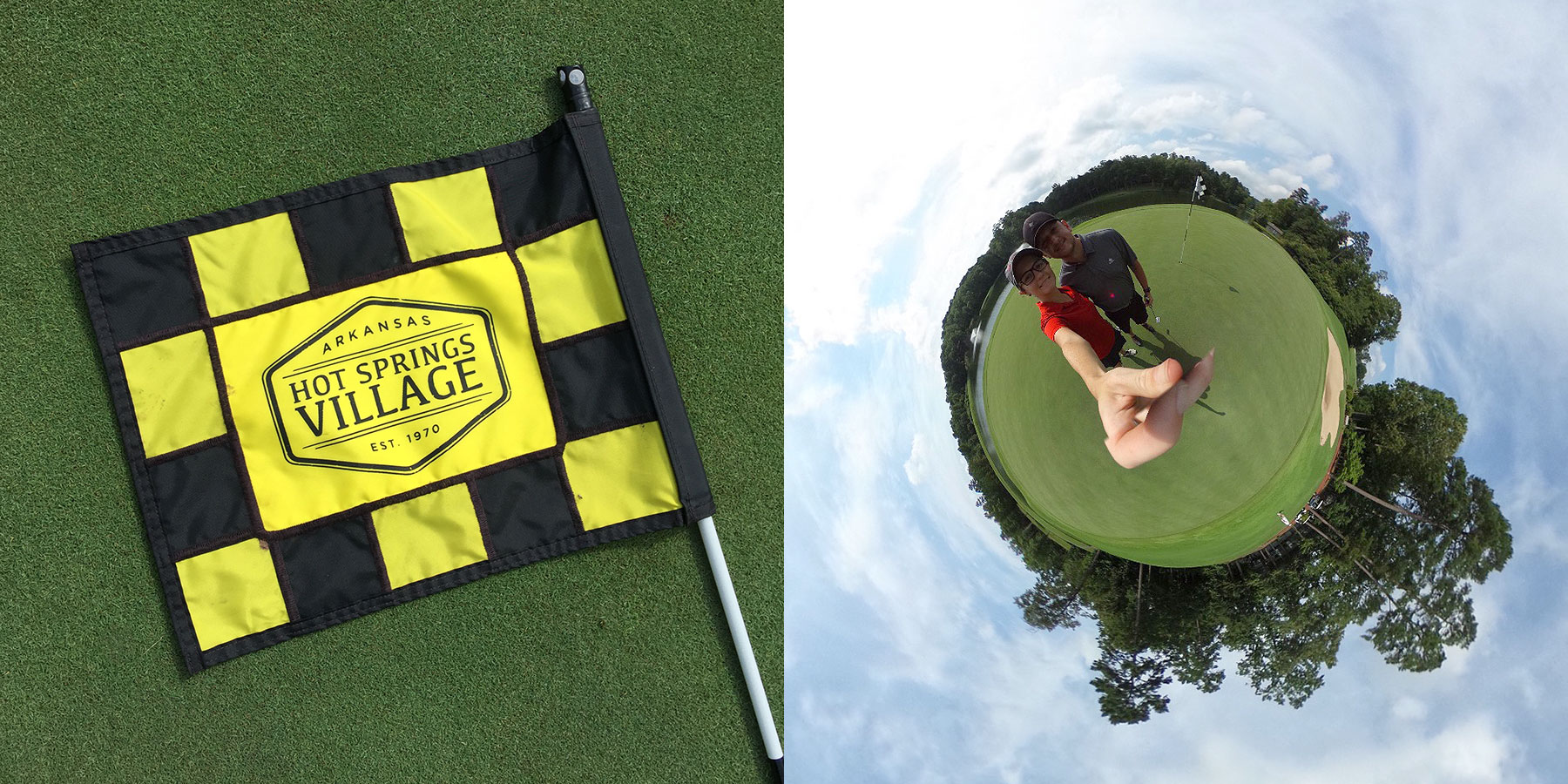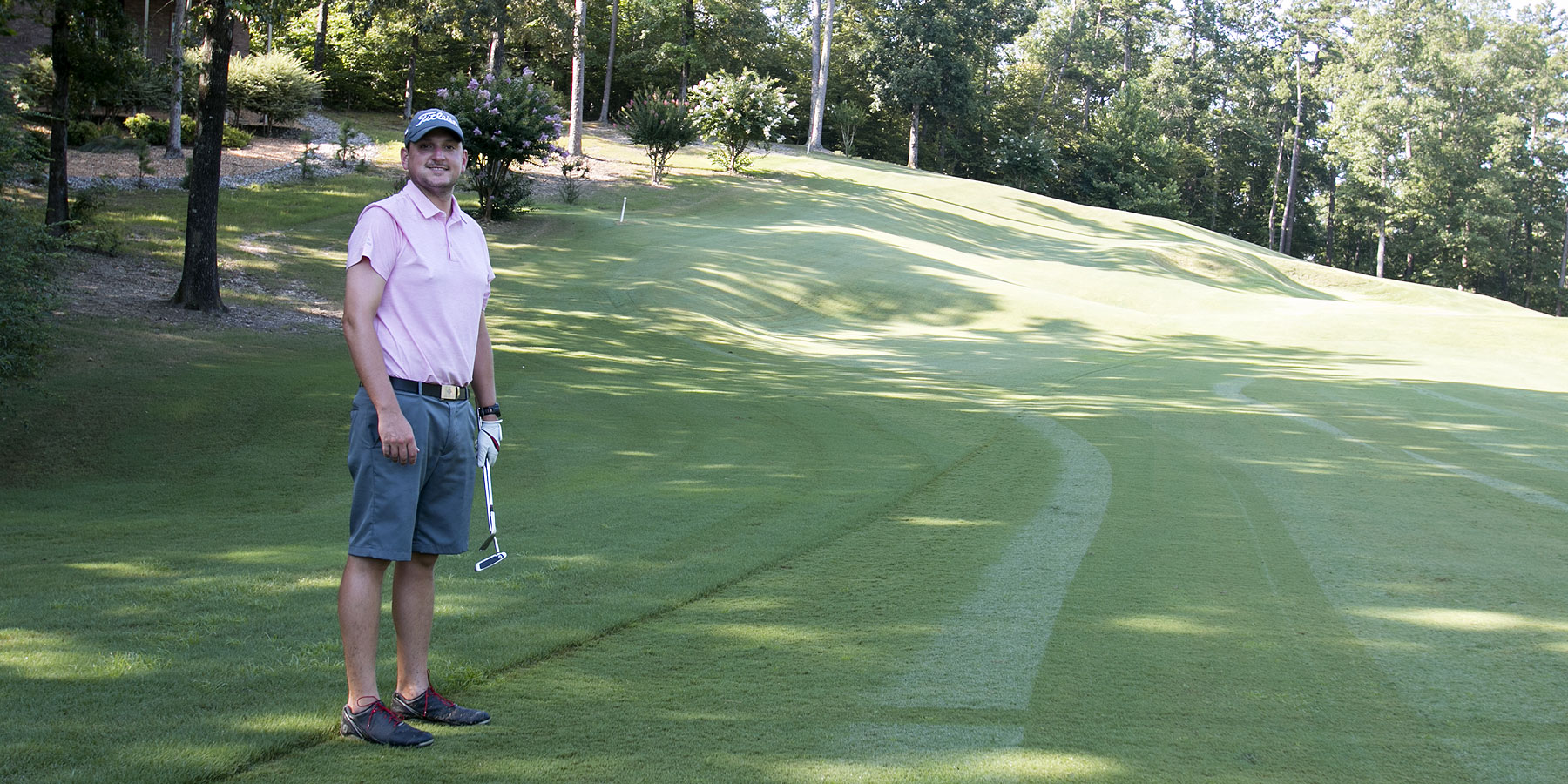 One of the other cool amenities in "The Village" are its beaches. There are three beaches and we spent an hour or so at the Balboa Beach. We laid out, swam and jumped off the pier several times.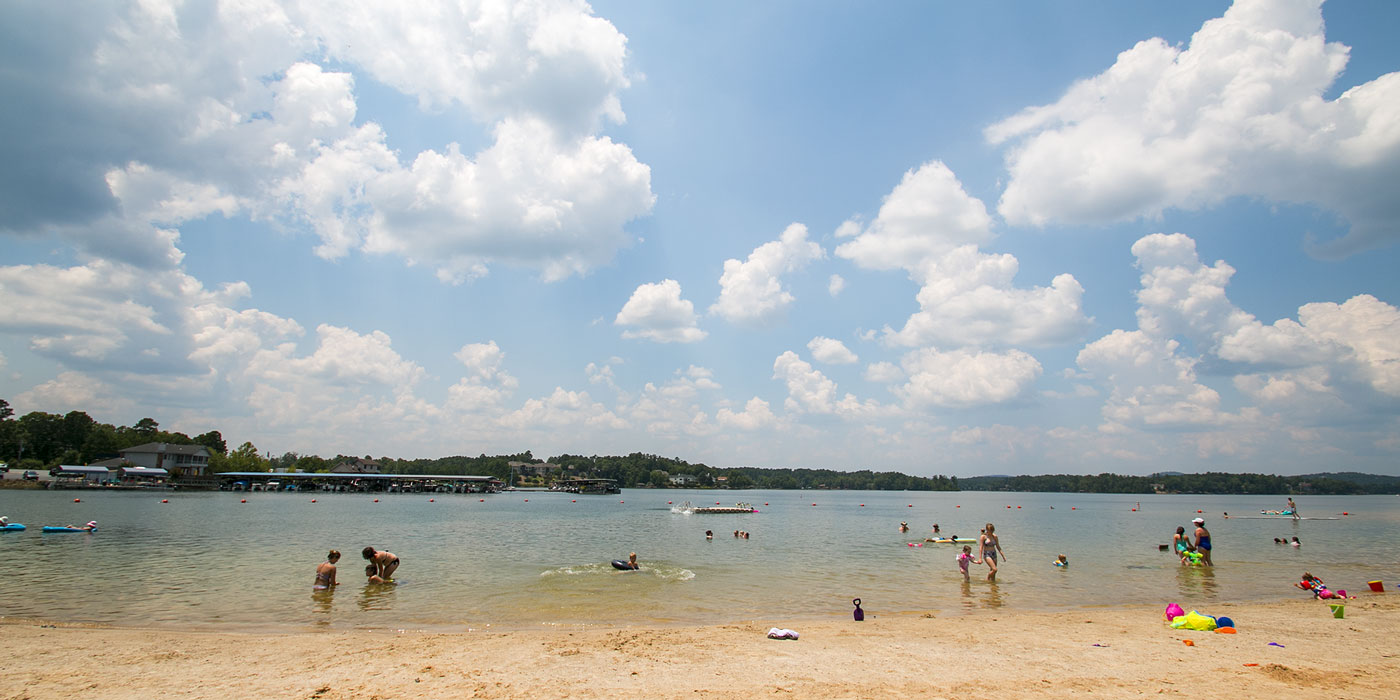 For dinner we had steaks at The Porterhouse and then went on a walking haunted tour in downtown. Not only was it fascinating to learn about the gangsters in Hot Springs, but we also learned about all the scary events that have led to all sorts of hauntings in the city.
FINAL THOUGHTS
What a trip! We didn't have any idea what this week would bring us but it proved to be full of four things – Love, Laughter, Learning and Adventure. These are things that we'll continue to experience together and that makes me really happy. We'd both highly recommend everything that we experienced above to anyone looking to go on a fun vacation. 😀
Peace out✌🏼 and we'd love to see some comments below if you've been to Hot Springs!